TIG Welder features adjustable balance control.
Press Release Summary: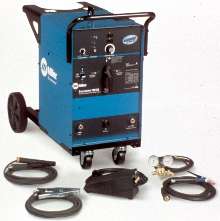 Syncrowave® 180 SD TIG/Stick power source allows operators to preset welding amperage with digital meters. Output is 10 to 180 A in both AC and DC TIG welding mode. Selectable arc start function controls initial volume of current to create soft start, standard start, and hot start. Adaptive Hot Start feature automatically increases amperage during arc start when required. Fan-On-Demand cooling system only runs when needed.
---
Original Press Release:
New Syncrowave® 180 SD TIG Welder Features Adjustable Balance Control, Digital Meters
o Tailor the AC TIG arc to match the application o Preset desired welding amperage with digital meters o Performance suitable for professionals, priced for hobbyists o Three arc starting conditions for small, medium and large tungstens APPLETON, Wis., Oct. 1, 2002-To enable users to tailor penetration and cleaning action while TIG welding aluminum, Miller Electric Mfg. Co. has designed a new Syncrowave® 180 SD TIG/Stick power source by adding an adjustable AC balance control. The Syncrowave 180 SD allows operators to preset desired welding amperage with new digital meters and also provides dramatically better arc starts through its selectable arc start condition feature. Other new features include Fan-On-Demand(TM), adjustable postflow, Adaptive Hot Start(TM) for Stick arc starts, last-procedure recall and built-in cable hangers. Starting November 1 and running through January 31, 2003, the Syncrowave 180 SD Runner (added running gear for mobility) can be purchased as a package with the Stars and Stripes auto-darkening welding helmet-a savings of nearly $129 to consumers. The unit has an output of 10 to 180 amps (150 amps at 40 percent duty cycle) in both the AC and DC TIG welding mode and a stable TIG arc throughout its entire range. It can weld any weldable metal. "The Syncrowave 180 SD now provides many of the performance benefits found in Miller's larger industrial TIG welders, yet it is affordable enough for hobbyists involved with race cars, airplanes and art," said Jim Brook, product manager, Miller Electric. He notes that professional welding operators in the fabrication, maintenance/repair and light manufacturing industries will immediately appreciate the arc performance of this machine. Better Squarewave Performance The Syncrowave 180 SD's squarewave technology helps eliminate tungsten spitting and increases arc stability on aluminum and other metals that require an AC weld output. Where the previous version and some competitive machines have a squarewave output that cannot be manually adjusted, the Syncrowave 180 SD features an AC balance control that is adjustable see Fig. 1. This allows operators to add more electrode negative (EN) for a narrower, deeper penetrating weld bead or to decrease EN for a wider, shallower bead with better cleaning action for oxide removal. Positive TIG and Stick Arc Starts Like larger Syncrowave models, the Syncrowave 180 SD's selectable arc start function ensures consistent and repeatable high-frequency AC and DC TIG arc starts. It controls the initial volume of current to create a "soft start," a "standard start" and a "hot start." "Soft start helps operators welding thin metals or on edges, while hot start improves starts with the larger diameter tungstens used for welding thicker material," said Brook. Miller pre-sets the machine in the standard start mode to optimize performance for general use with the most popular electrode sizes. To change starting conditions, simply access a hidden menu by putting the polarity switch in the "1" or "11" o'clock position and turn on the machine while holding the process button. Since many people who TIG weld for precision also want an AC/DC Stick output for heavier materials or to increase speed, Miller improved the Syncrowave 180 SD's Stick output by adding an Adaptive Hot Start feature. When required, this function automatically increases the amperage during arc start. "Adaptive Hot Start prevents the electrode from sticking, and remember that even pro's jokingly call it 'Stick' welding because the electrode is prone to sticking," notes Brook. If the electrode sticks, it creates an inclusion in the weld bead that may need to be ground out. Low Noise, More Control The Syncrowave 180 SD also includes Miller's Fan-On-Demand cooling system. The cooling fan only runs when needed, reducing airborne dust and dirt being pulled into the unit. This saves energy, prolongs the life of the unit and operators really appreciate the noise reduction compared to constant, loud hum of older machines. When TIG welding, a built-in gas solenoid valve automatically delivers a 0.2 second pre-flow and allows for 5 to 18 seconds of post-flow to protect and cool the weld bead and tungsten. The Syncrowave 180 SD comes as a complete welding package, which includes remote foot control, electrode holder and ground clamp, gas hose and regulator, torch consumables and TIG handbook; just supply gas and electrodes. The Syncrowave 180 SD Runner package adds a running gear for mobility. The Syncrowave 180 SD is covered by Miller's True-Blue® three-year factory warranty. To download a Syncrowave 180 SD spec sheet, visit Miller's website at MillerWelds.com. For more information or the Miller distributor nearest you, call 800-4-A-MILLER (800-426-4553), e-mail info@millerwelds.com, fax 877-327-8132, visit the website or write to Miller Electric Mfg. Co., P.O. Box 100, Lithonia, GA 30058. With headquarters in Appleton, Wis., Miller Electric Mfg. Co. is a leading worldwide manufacturer of Miller and Hobart brand arc welding equipment and related systems for metalworking, construction, maintenance and other applications. Miller Electric is a wholly owned subsidiary of Illinois Tool Works Inc. (ITW), Glenview, Ill. ITW is a diversified multinational manufacturer of highly engineered components, assemblies and systems.
More from Electrical Equipment & Systems