Thrust Screws come in threaded and headed styles.
Press Release Summary: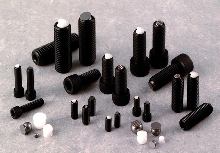 Thrust Screws allow straight-line static load thrust without transmitting torsional or radial forces on object or work piece. Threaded (setscrew) and headed (socket head cap) screw types are available. Three thrust end types include: cone-shape flat steel, cone-shape flat Delrin®, and serrated high speed tool steel. Thread sizes range from ¼ through 1 in. in both fine and coarse, in lengths from ½ to 4 in.
---
Original Press Release:
Fairlane Products to Feature New Thrust Screw Product Line at IMTS 2002

Along with its full line of modular workholding/positioning components and rollers and bumpers, Fairlane Products, Inc. (Fraser, MI) will introduce its new patent-pending Thrust Screw product line at IMTS 2002 Booth No. E-2832.

The Thrust Screws (both threaded-setscrew type, and headed-socket head cap screw type) allow straight-line static load thrust without transmitting torsional or radial forces on an object or work piece. As the Thrust Screw is threaded against a surface, the free-floating ball design allows the thread to continue to rotate while the ball remains stationary against the surface. The Thrust Screws are ideal for contoured or irregular surfaces and although hold secure, provide for a "forgiving" force without the marring, scarring or destruction of the work piece.

Fairlane Products' Thrust Screws are available in two styles-threaded or headed, with three thrust end types-cone-shape design flat steel, cone-shape design flat Delrin® and serrated high speed tool steel. Thread sizes available are ¼" thru 1" in both fine and coarse in lengths from ½" to 4".

Fairlane Products designs and manufactures a wide range of workholding and positioning components, all built to promote higher productivity through faster speeds and feeds. In addition, the company designs and manufactures serrated grippers, encompassing hardened high-speed tool steel or solid carbide diamond pattern grippers, low-profile edge grippers, single point and straight serration grippers. Other products include Swivots® - swivel-action modular component workholding elements incorporating a serrated gripper, smooth pad, or a Delrin® rest pad that rotates and pivots for holding and positioning of irregular contour surfaces. The company is also a leading designer and manufacturer of rollers and bumpers used in materials handling, assembly and manufacturing applications.

Send inquiries to: Fairlane Products, Inc., 33792 Doreka, Fraser, MI 48026. Tel: 586.294.6100 Fax: 586.294.6822 Online: www.fairlaneproducts.com