Through-Hole Resistor targets current sensing transformers.
Press Release Summary: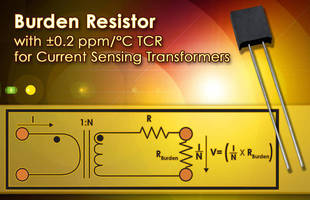 Designed for connection to secondary-side of current sensing transformers, VFR Bulk Metal® Foil Burden through-hole resistor offers TCR down to ±0.2 ppm/°C from -55 to +125°C, 25°C ref, and load-life stability of ±0.005% after 2,000 hr at 0.1 W at 70°C. Resistor is usually connected to output of power device for discharging of bulk output filter capacitor when charged and connected to power source. Max power is 0.6 W at +70°C, and resistance range is 1–500 Ω.
---
Original Press Release:

VPG and TXCC Announce New COTS Burden Resistor for Current Sensing Transformers



MALVERN, Pa. — Vishay Precision Group, Inc. (NYSE: VPG) today announced that its Vishay Foil Resistors product line (VFR) has introduced the new high-precision Bulk Metal® Foil Burden through-hole resistor. Designed for connection to the secondary-side of current sensing transformers, the device offers low TCR down to ±0.2 ppm/°C from -55°C to +125°C, 25°C ref., and excellent load-life stability of ±0.005% after 2,000 hours at 0.1 W at 70°C.



Current sensing transformers act as current sources and require a load. Like a voltage source, a current source shouldn't be left open, as it would cause an infinite voltage. The VFR Burden resistor converts the current to a limited voltage. Typically, the device will be used to discharge a capacitor when the circuit is no longer powered.



The Burden resistor is usually connected to the output of the power device for the discharging of the bulk output filter capacitor when it is charged and connected to a large power source, such as an accumulator or airplane battery. The resistor offers a low resistance of only a few ohms and prevents the influence of inrush current to the device to which the power unit is connected. Inrush currents usually happen when the battery or accumulators are very large and their capacitance is too high.



Texas Components Corporation (TXCC) has been a part of the electronic component sales and distribution industry in North America since the 1960s and has been producing precision foil resistors and related devices in the USA since 1980. TXCC specializes in the fast delivery of sample and prototype quantities while also supporting full manufacturing volumes and scheduled deliveries. TXCC also provides extensive pre- and post-manufacturing operations, as well as other testing services, including discrete parametric screening, set matching, power conditioning, burn-in, and life tests.



"We are proud of the proven history and unique properties of VPG's Bulk Metal Foil resistive technology, and we are excited about the quality resistive products and devices it allows us to create in our Houston factory. Our sales and manufacturing staff has an extensive history working with Bulk Metal Foil technology, and we are able to provide customers with excellent technical support, as well as short lead times, for both standard VFR products and even custom devices," said Nelson Bustos, director of operations for Texas Components Corporation.



The Burden resistor offers a maximum power rating of 0.6 W at +70°C. The device features a resistance range from 1 Ω to 500 Ω, with tight resistance tolerance to ±0.005% (50 ppm). Any conceivable ohmic value within this range, to six digits, is available with no additional cost or lead time effect. The resistor withstands ESD spikes to at least 25 kV and is available with both lead (Pb)-free and tin/lead alloy termination finishes.



Samples and production quantities of the Burden resistor are available now from VFR and TXCC, with lead times of three working days for prototype samples and three weeks for standard orders. Pricing starts at $6.78 per piece.



Further information about Vishay Foil Resistors products is available at www.vishayfoilresistors.com. Follow Vishay Foil Resistors at http://twitter.com/foilresistor. Support from Texas Components Corporation is available at www.texascomponents.com.



About Vishay Precision Group, Inc. (VPG)

VPG is an internationally recognized designer, manufacturer and marketer of: components based on its resistive foil technology; sensors; and sensor-based systems specializing in the growing markets of stress, force, weight, pressure, and current measurements. VPG is a market leader of Foil Technology Products, providing ongoing technology innovations in precision foil resistors and foil strain gages, which are the foundation of the company's Force Sensors Products and its Weighing and Control Systems. The product portfolio consists of a variety of well-established brand names recognized for precision and quality in the marketplace. To learn more, visit VPG at www.vpgsensors.com.



About VPG Foil Resistors

VPG Foil Resistors produces the most precise and stable resistors available. Distinguished by the premier brands Vishay Foil Resistors, Powertron, and Alpha Electronics, the VPG Foil Resistors portfolio includes discrete resistors and resistor networks in surface mount and through-hole (fixed-lead) configurations; customized chip resistor networks; precision trimming potentiometers; and discrete chips for use in hybrid circuits. These devices are used in applications requiring a high degree of precision and stability, such as in medical testing equipment, semiconductor equipment, precision measuring instruments, aerospace, and military applications. To learn more, visit www.vishayfoilresistors.com.



Bulk Metal is a registered trademark of Vishay Precision Group, Inc. (VPG).