Three-Phase UPS includes SNMP communications.
Press Release Summary: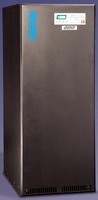 Available for 10, 15, and 20 kVA applications, FirstLine® products support networking with manufacturing and management systems. Double-conversion technology protects connected load from sags, swells, noise, and voltage imbalances without going to battery operation, and control panel on front of freestanding NEMA 1 enclosure includes alarm and remote monitoring via RS232 connection. Products also offer web browser-based visual readings, alarm notification, and 48 hr system history.
---
Original Press Release:

New 3-Phase UPS from Staco Includes SNMP Communications for Industrial Plant Networking



Staco FirstLine® Three-Phase UPS Now Include SNMP Communications

Dayton, OH -- Staco Energy Products Co. announces the addition of SNMP communications capabilities for their FirstLine® three-phase Uninterruptible Power Supply (UPS). These models, which are available for 10, 15 and 20 kVA applications, allow users to network this UPS with their manufacturing and management systems. With SNMP capabilities, FirstLine® offers web browser based visual readings, alarm notification, a 48-hour system history, as well as client shutdown software for the most popular operating systems.

"Networking of the FirstLine® into operating systems gives customers the ability to maintain operations and remotely access vital information," said Staco Energy Products Co. Vice President Dave Kendall. "Additionally, with our 48-hour system history, users have a repository of information to find the cause of an outage or other event once full power has been restored and systems are back to normal operations."

FirstLine is a true on-line, double-conversion UPS that provides computer grade power quality at a price that is 20-30% below comparable kVA models. Despite its small footprint and low weight, the FirstLine® has a standard internal battery run-time of up to 30 minutes (with optional batteries for virtually unlimited run time). Sophisticated transformerless power technology provides reliable blackout protection and power conditioning. Front-end harmonic correction eliminates the need for additional filtering, lowering the cost of operation. Robust double-conversion technology protects the connected load from sags, swells, noise, and voltage imbalances without going to battery operation. This UL1778 listed UPS is ideal for a wide range of applications including broadcast, computer networks, robotics, medical, process industries, wastewater treatment, food processing and manufacturing plants.

A user-friendly control panel located on the front of the freestanding NEMA 1 enclosure includes an alarm and remote monitoring through an RS232 connection. FirstLine® is made in the USA and backed by an industry-leading three-year warranty (covering both parts and labor).

FirstLine® models are available for 10, 15 and 20 Kva applications with input voltage of 208, 220 and 480 Vac and a range of +10 /- 20% (166-229Vac). Input frequency is 60Hz +/-5%. Full load walk-in from 25% to 100% of rated load in 10 seconds. Inverter ouptut distortion is ≤5% THD for non-linear loads and ≤2% THD for linear loads. Output voltage is regulated to +/-1% of nominal at full load. Detailed specifications are available at www.staco-news.com.

A wide range of planned maintenance and service programs to maximize the service life of the FirstLine UPS are available through an extensive network of factory trained representatives. To find a local distributor, visit http://www.stacoenergy.com/BuyPQ-US.html.

Staco Energy Products Co. is a major provider of voltage control, voltage regulation, power conditioners, and uninterruptible power supplies. For 70 years, customers worldwide have relied on Staco Energy Products as their dependable source for standard and custom solutions to a wide range of electrical power problems. Headquartered in Dayton, Ohio, Staco Energy Products is a wholly owned subsidiary of Component Corporation of America, located in Dallas, Texas. For more information, visit www.staco-news.com, call 866-261-1191, or write to Staco Energy Products Co, 301 Gaddis Blvd, Dayton, OH 45403, or sales@stacoenergy.com.

Wahl Marketing
Jim Wahl
513-259-3809
jimwahl@fuse.net

Staco Energy Products
Dave Kendall
937-253-1191 x 145
kendalld@stacoenergy.com