Threaded Line Vacs turn pipe into conveying systems.
Press Release Summary: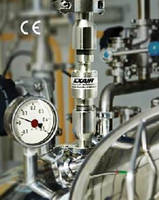 Made of 303 stainless steel, 3/8 NPT and ½ NPT Threaded Line Vacs™ convert ordinary pipe into air-operated conveying system that can sample gas streams and grains, move small parts, or transport scrap out of small spaces. Units attach to plumbing pipe couplers, sanitary flanges, and other pipe fittings. Products eject small amount of compressed air to produce vacuum on one end with high output flow on other. Regulating compressed air pressure provides infinite control of conveying rate.
---
Original Press Release:

Stainless Steel Threaded Line Vac Turns Pipe Into a Conveyor



EXAIR's new 303 stainless steel 3/8 NPT and 1/2 NPT Threaded Line Vac™ Air Operated Conveyors convert ordinary pipe into a powerful conveying system for parts, scrap, trim and other bulk materials. Their small size makes them perfect for fitting in the cramped spaces and tight confines of many production lines. The Threaded Line Vac is designed to attach to plumbing pipe couplers, sanitary flanges and other pipe fittings, making it easy to build a complete system using ordinary pipe and fittings. These new sizes of stainless steel Threaded Line Vac air operated conveyors make it easy to sample gas streams, sample grains or other ingredients, move small parts, or transport scrap or product out of small spaces.



Threaded Line Vac Conveyors eject a small amount of compressed air to produce a vacuum on one end with high output flows on the other. Response is instantaneous. Regulating the compressed air pressure provides infinite control of the conveying rate. Applications include scrap trim removal, material conveying, part transfer, fiber tensioning, filling operations and sampling.



303 Stainless Steel Threaded Line Vacs are CE compliant and are suited to a wide variety of conveying applications. Larger threaded sizes in up to 3 NPT and smooth end models for hose up to 5" are also available in aluminum, 303SS and 316SS. Prices start at $290.



For more information contact: EXAIR Corporation

11510 Goldcoast Dr.

Cincinnati, OH  45249-1621

Phone: (800) 903-9247

Fax: (513) 671-3363

E-mail: techelp@exair.com

www.exair.com/sssmtlv.htm







More from Electronic Components & Devices