Threaded Dry-Break Quick Disconnect has ultra-miniature design.
Press Release Summary: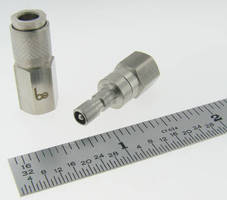 Manufactured from corrosion-resistant stainless steel, Beswick M3 carries 500 psig rating when connected. Dry-break design ensures that there is no leakage during connection or disconnection and minimizes dead volume between internal and external ends. While Buna-N is standard seal material, Viton® and EPDM are optional. Other elastomers are also available upon request.
---
Original Press Release:

Introducing the World's Smallest Dry-Break Quick Disconnect



*Introducing the world's smallest dry-break quick disconnect. The ultra-miniature Beswick M3 threaded dry-break quick disconnect is precisely manufactured from corrosion resistant stainless steel and is rated to 500 psig when connected.  Buna-N is the standard seal material. Viton® and EPDM are optional and can handle many types of fluids. Other elastomers are available upon request. Take advantage of our proprietary technology and experience to improve the performance of your products.



The dry-break, some refer to it as "no-spill" (however there are some slight differences), configuration is a more sophisticated version of a standard double shut-off quick disconnect. The advanced dry-break design ensures that there is essentially no leakage during connection or disconnection. It also minimizes the dead volume between the internal and external ends.



Our "Basics of Quick Disconnects" technical paper is a good place to start if you'd like to learn about the various types of quick disconnects. When you've decided which type of quick disconnect you need you can narrow your part number search using the product selection guides at http://www.beswick.com/beswick-engineering-quick-disconnects and http://www.beswick.com/quick-disconnect-selection-guide.



You will likely agree that the ultra-miniature Beswick M3 threaded dry-break is unique and worth keeping in mind for a future design but perhaps you need something larger for your current application.  Not to worry, we offer larger models in dry-break, double shut-off, single shut-off and no shut-off styles.



E-mail us now if you'd like a copy of our catalog. If you have an immediate question you can reach a Beswick Applications engineer by calling 603-433-1188, e-mailing besales@beswick.com, or by conversing with one of our engineers via our website www.beswick.com.



Leverage our 51 years (we've been at this for awhile) of expertise to solve your difficult application today.



Michael Donati

Beswick Engineering Co., Inc.

"Excellence in Miniature since 1964"   2015 Marks our 51st year!!!

284 Ocean Road

Greenland, NH 03840-2442 USA

phone: 603-433-1188

fax: 603-433-3313

e-mail: mdonati@beswick.com

web site: www.beswick.com



VISIT us at PITTCON – MARCH 2016 – BOOTH 3628



*To the best of our knowledge, it is the world's smallest dry-break quick disconnect. … If you can show us a smaller commercially available dry break quick disconnect we will send you a sample compression fitting and, if we are feeling generous, we might buy you lunch too. ;-)

More from Fluid & Gas Flow Equipment