Thread Pastes are metal-free.
Press Release Summary: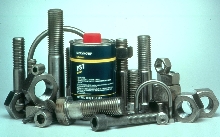 Molykote(R) P-37 thread paste anti-seize lubricant is formulated to protect bolts from stress-corrosion cracking at temperatures to 2550 deg F. Mineral-oil-based Molykote(R) P-40 thread paste provides continuous lubrication from -40 to 446 deg F (as dry lubricant up to 2192 deg F). Molykote(R) brand 1000 thread paste provides stable lubrication of threaded fasteners, and prevents bolt seizure resulting from exposure to temperatures from -40 to 2100 deg F.
---
Original Press Release:
Thread Lubricating Pastes From Dow Corning Outperform Conventional Products

Molykote® Brand Thread Pastes Offered in High-Purity, Metal-Free, General Lubricating Grades

MIDLAND, MICH. (April 25, 2002) - A line of lubricating thread pastes offering unique properties for applications where conventional pastes cannot perform is available from Dow Coming Corporation. Marketed under the Molykote® trade name, the product line includes high-purity thread pastes that are compatible with metal alloys, as well as metal-free and general purpose pastes that are safe for worker exposure and the environment.

Molykote® brand P-37 thread paste is an ultra-pure, high-temperature anti-seize lubricant formulated to protect bolts from stress-corrosion cracking at temperatures up to 1400°C (2550°F). It offers excellent lubricity and high-load carrying capability for damage-free assembly and disassembly. Unlike most competitive products, the formulation contains extremely low levels of sulfur and halogens that can cause bolt fracture due to stress corrosion cracking. In addition, these pastes contain no metal powders, which eliminates the possibility for solder embrittlement and/or galvanic corrosion. Molykote P-37 is particularly suited for use in power plant operations (gas, fossil, nuclear steam turbines, and flight turbines of aircrafts). Automotive applications include high temperature threaded connections such as those found on exhaust pipes and catalytic converters. It is compatible with stainless steel, nimonic steel, and other nonferrous metals, and is environmentally safe compared with pastes containing lead or nickel powders. Molykote® P-37 paste is safer for operator exposure because the formulation is based on zirconium oxide and other non-hazardous solid lubricants, which makes it virtually non-toxic. Molykote® brand P-40 thread paste is a metal-free lubricant offering excellent adhesion to machine components that are exposed to corrosive environments and extreme temperatures. It is a mineral-oil-based paste that contains proprietary solid lubricants and corrosion inhibitors and is formulated without the use of metal powders. As a paste, it provides continuous lubrication from -40 to 230°C (-40 to 446°F) and as a dry lubricant up to 1200°C (2192°F). Molykote P-40 paste eliminates problems associated with most competitive products that enhance their load carrying and high-temperature capabilities by adding metal powders such as copper, nickel or aluminum. At elevated temperatures, for example, the base oils in these pastes evaporate and leave only pure heavy metal powders that are known environmental hazards. And, in some cases, the metal powders also pose severe safety risks due to the potential for ignition at high temperatures and/or inhalation. The excellent adhesion and anti-corrosive properties offered by Molykote P-40 contribute to longer operating life and increased performance over competitive products. It is particularly suited for applications exposed to corrosive splash water and humidity; and the lubrication of oscillating or vibrating machine components, plain bearings, and sliding surfaces.

Molykote® brand 1000 thread paste is a general-purpose lubricant offering a unique combination of performance properties that are not available from most competitive alternatives such as extreme temperature capabilities and unchanged torque/tension properties for fasteners-even after repeated loosening and tightening cycles. This paste provides stable lubrication of threaded fasteners and it is designed to prevent bolt seizure resulting from continuous exposure to temperatures ranging from -40 to 1150°C (-40 to 2100°F).

Molykote® 1000 paste is formulated to have a coefficient of friction similar to mineral oil, which reduces the risk of over-tightening threaded fasteners. This paste is typically suited for the lubrication of threaded connections exposed to severe environments such as oven chains, exhaust manifold bolts, marine and outdoor equipment etc, and is an excellent plant maintenance product for general use.

The pastes are part of the "Molykote Lubrication Management Program" from Dow Coming, which includes 42 new synthetic fluids and ultra-high purity mineral oils, compounds, greases, anti-friction coatings, and dispersions as well as an oil analysis service and lubrication management software. Combined, these products and services offer a complete line of lubrication solutions for virtually every plant need.

Dow Coming currently offers more than 7,000 products to customers around the world. Dow Coming is a global leader in silicon-based materials with shares equally owned by The Dow Chemical Company and Coming Incorporated. More than half of Dow Coming's sales are outside the United States. Molykote has been a well-known brand for industrial lubrication throughout Europe and Asia since the 1950s.

For more information about the complete line of Molykote® lubricating pastes and product literature, visit the Website at www.Molykote.com, or call 1-800-637-5377.
More from Food Processing & Preparation