Thin Grooving and Micro Turning Tools have long-life design.
Press Release Summary: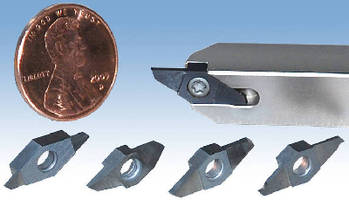 Ground from premium carbide grades for optimal tool life, UTILIS® Multidec 1600 series is capable of work under .125 in. dia utilizing insert widths from .0019-.108 in. thick with cutting edge repeatability within .0004 in. Geometries can be used for front turn, back turn, micro threading, and cut-off work. Full radius grooving and turning tools are offered in standard increments as well. Available with various coatings, tools accommodate holder shanks down to 7 mm.
---
Original Press Release:

New UTILIS® 1600 Series Multidec® for Thin Grooving and Micro Turning Work



Westfield, MA November 4, 2009... Genevieve Swiss Industries has introduced UTILIS® Multidec 1600 series thin grooving and micro turning tools capable of work under .125" in diameter utilizing insert widths from thickness of human hair (.0019") up to .108" with cutting edge repeatability within .0004". Ground from premium carbide grades for enhanced tool life in the toughest materials, the 1600 series is available with a variety of coatings. The small holder shanks (down to 7mm) are designed to suit the smallest Swiss machines. Tool holders for larger machines are also available. Additionally these Swiss-type turning tools offer geometries that can be used for front turn, back turn, micro threading and cut-off work. "Full radius" grooving and turning tools are offered in standard increments as well. When combined with special ID working holders, the 1600 system handles axial (face) grooving and ID work on larger parts.

http://www.genswiss.com/multidec1600.htm

Genevieve Swiss Industries, Inc. is the exclusive source for UTILIS Multidec® product line for North America.

Genevieve Swiss Industries, Inc. provides specialized tools, accessories, application and process assistance for Swiss Type machining and small parts manufacturing. Products include PCM Rotary Broaching tools, tool holders for Citizen Machines, Star, Maier, Nexturn, Okuma, VDI, Swiss made slitting saws and arbors, polygon and hobbing tools, magnetic finishing and deburring systems, Swiss collet sleeves and chucks, thread whirling attachments, high speed spindles for CNC Swiss machines and premium cutting oils

Editorial Contact:
Scott Laprade, Sales & Marketing
Genevieve Swiss Industries, Inc
6 Old Stage Road
Westfield, MA 01085
Tel. 413-562-4800
Fax 413-562-4802
www.genswiss.com
e-mail: sales@genswiss.com

Agency:
Ron Ward
Ward Communications
5 Lavender Lane
Farmington, CT 06032
Tel. 860-676-8338
Fax. 860-676-9669
e-mail: rtwtmr@comcast.net

More from Packaging Products & Equipment