Thermoset Composites withstand tough environments.
Press Release Summary: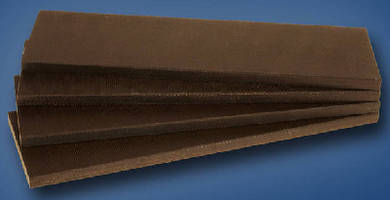 Comprised of 4 grades, NP193 series features blend of aramid fabric substrates impregnated with various resins. While NP193E uses high-temperature epoxy resin for wear resistance, NP193M uses melamine resin for corrosion resistance. Use of high-temperature phenolic resin system with woven aramid fiber/glass fabric imbues NP193P with mechanical strength, while NP193PM combines high-temperature phenolic resin with aramid and soft glass fibers as well as non-conducting solid lubricant.
---
Original Press Release:

Norplex-Micarta's NP193 Series Offers Superior Performance for Tough Environments



POSTVILLE, IA - Norplex-Micarta, the leading manufacturer of high performance thermoset composites, announces the NP193 series of materials for applications requiring excellent dimensional stability, high wear resistance, and superior mechanical strength.

The NP193 series includes four grades, NP193E, NP193M, NP193P, and NP193PM; all are available in sheet form measuring 4" x 5" and up to 2" thick. Each grade features a proprietary blend of aramid fabric substrates impregnated with various resins:

o NP193E uses a high temperature epoxy resin for high wear resistance.

o NP193M uses a melamine resin, which makes it impervious to corrosives, such as anhydrous ammonia. It's the optimal replacement for asbestos in refrigeration compressors.

o NP193P combines a high temperature phenolic resin system with woven aramid fiber/glass fabric for excellent mechanical strength.

o NP193PM combines high-temperature phenolic resin with aramid and "soft glass" fibers and a non-conducting solid lubricant. It has excellent mechanical strength at elevated temperatures and in adverse chemical environments, making it an ideal material for wear plates in conveyor systems, valve plates, and compressor and pump vanes. NP193PM has an ambient flexural strength of 45,000psi and a hot flexural strength of 33,000psi.

About Norplex-Micarta
Norplex-Micarta is the leading manufacturer of high performance thermoset composites. Norplex-Micarta's vast product line serves power generation, military/aerospace, oil & gas, medical devices, electrical devices, electronics assembly, construction, heavy industry, and transportation markets throughout Europe, Asia/Pacific, and The Americas. Norplex-Micarta is located at 665 Lybrand Street, Postville, IA 52162; Tel: 563-864-7321; Fax: 563-864-4231; E-mail: info@norplex-micarta.com; Web: www.norplex-micarta.com.

For more technical information, contact:
Alan Johnson, Director of Business Development
NORPLEX-MICARTA
665 Lybrand Street
Postville, IA 52162 USA
TEL: +1 563-864-4275; FAX: +1 563-864-4231
EMAIL: ajohnson@norplex-micarta.com