Thermoplastic Seals handle high temperatures.
Press Release Summary: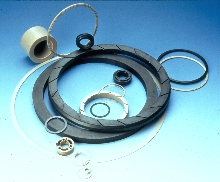 UltraCOMP(TM) engineered thermoplastics are resistant to creep and fatigue in temperatures up to 500 deg F. Chemical, electrical-, and radiation-resistant seals can operate continuously and be regularly sterilized by steam, as common with medical device seals. Material is available in 4 formulations: virgin, carbon fiber-filled, glass-filled, and carbon/graphite/PTFE-filled. Tube sizes are up to 8 in. OD, with up to 4 in. length and up to 0.5 in. cross section.
---
Original Press Release:
New Thermoplastic Seals for Extreme Temperatures, High Pressures and Harsh Chemicals

IRVINE, CA - Parker Hannifin's Seal Group has introduced UltraCOMP(TM) engineered thermoplastics for sealing applications in extreme temperature, pressure and chemical environments.

UltraCOMP materials provide higher tensile and flexural strength and resistance to creep and fatigue than conventional engineered thermoplastics in temperatures up to 500 deg F (260 deg C). Their high strength and wear resistance make UltraCOMP engineered thermoplastics practical replacements for metal and metal alloy sealing systems when weight, metal-to-metal wear or corrosion issues occur.

UltraCOMP materials are insoluble to most industrial chemicals, and demonstrate high levels of chemical, electrical and radiation resistance. They can operate continuously and be regularly sterilized by steam, as common with medical device seals.

Typical applications for UltraCOMP thermoplastics include PIP rings, back-up rings and bearings for EOG (energy, oil and gas) equipment; automotive bearing rings and wire tubing; valve seats and anti-extrusion rings for chemical processing; CMP retainer rings for semiconductor manufacturing; and handles and nozzles for medical and dental devices.

Parker UltraCOMP engineered thermoplastics are injection molded, custom machined, or provided in tubes or sleeves. UltraCOMP material is available in four formulations: virgin, carbon fiber-filled, glass-filled, or carbon/graphite/PTFE-filled. The filled versions provide increased strength and flexural performance. Standard tube sizes are available up to 8 inches (20.32 cm) OD (outside diameter), in lengths up to 4 inches (10.16 cm) and cross sections up to 0.5 inch (1.27 cm).

For more information about UltraCOMP materials, or to receive Parker's UltraCOMP Engineered Thermoplastics technical bulletin (5264B1), call 1-800-C-PARKER. Or, visit www.parkerseals.com.

Editor: Please send inquiries to:

Mark D. Halloran
Marketing Communications Manager
Parker Hannifin Seal Group
14300 Alton Parkway
Irvine, CA 92618
Tel: 949-851-3756
Fax: 949-851-3798
E-mail: mhalloran@parker.com

Technical Questions:

Ken Albertson
Market Manager
Parker Hannifin Seal Group, EPS Division
2220 South 3600 West
Salt Lake City, UT 84119
Tel: 801-977-5323
Fax: 801-973-4019
E-mail: kalbertson@parker.com
More from Computer Hardware & Peripherals