Thermoplastic Connectors combine strength, solvent resistance.
Press Release Summary: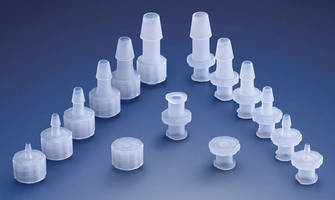 Constructed of Kynar® (PVDF) engineering thermoplastic, Kynar (PVDF) Connectors (No. 11390–11404) serve applications requiring purity, strength, and resistance to solvents. Configurations include female luer lock to barb, non-vented female luer lock cap, female luer lock to female luer lock, male luer lock to barb, and non-vented male luer lock cap. Natural-colored components are Autoclave, E-Beam, EtO, Gamma, and Steam sterilization compatible, and barbs range in size from 1/16–¼ in.
---
Original Press Release:
New Kynar® Connectors from Qosina
Edgewood, NY – Qosina is pleased to announce the addition of an extensive line of Kynar® Connectors (#11390-11404), in stock and ready for immediate delivery.  Configurations include female luer lock to barb, non-vented female luer lock cap, female luer lock to female luer lock, male luer lock to barb, and non-vented male luer lock cap.  Barbs are offered in a variety of sizes including, 1/16, 3/32, 1/8, 5/32, 3/16, and 1/4 inch.

Kynar® (PVDF) is a tough engineering thermoplastic with a balance of physical and chemical properties, and is used in applications requiring the highest purity, strength, and resistance to solvents. These natural colored components are Autoclave, E-Beam, EtO, Gamma and Steam sterilization compatible.  Qosina offers an array of barbed luers in various sizes and materials including ABS, nylon, polycarbonate, polypropylene and PVC.  In addition, Qosina carries a variety of Tygon®, C-Flex®, and silicone tubing.

Qosina is a worldwide supplier of thousands of stock OEM disposable components to the medical and pharmaceutical industries including connectors, luers, caps, clamps, adapters, clips, valves, needle hubs, stopcocks, hemostasis valves, tuohy borst adapters, swabs and spikes. Qosina operates an ISO 9001 and ISO 14001 registered facility.

Qosina offers low minimums and short lead times.  Call our Customer Specialists to request a sample, obtain our latest catalog or place an order via phone +1(631) 242-3000, fax +1(631) 242-3230 or e mail info@qosina.com. Visit us at www.qosina.com to see our latest products.  Custom sourcing services are available through our extensive network.

Contact:  
QOSINA
Ryan Edwards
150-Q Executive Drive
Edgewood, NY 11717
Phone: +1 (631) 242-3000
Fax: +1 (631) 242-3230
Email: redwards@qosina.com