Thermoforming Oven System with Pick and Place Loader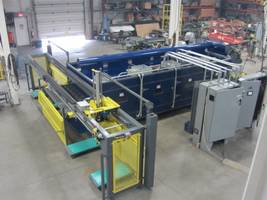 Our latest oven delivery!
Custom designed Thermoforming Oven, Loader and Conveyor System for a GMT line. The 18' long x 7' wide top and bottom horizontal infrared oven and conveyor has a pick and place robot which loads from both sides of the oven entrance.
The oven contains 36 heat zones for maximum efficiency, even heat control and flexibility for different blank sizes and six indexing zones for a ramp-soak process. It utilizes 8 WSI (12" x 36") ceramic panel emitters to heat the customer's reinforced fiberglass plastic blanks to an optimum temperature for their stamping line for automotive interior parts. The design includes eight insulated doors with viewing windows; four on each side of the oven. The stainless-steel wire mesh belt conveyor is integrated into the oven structure. An auxiliary conveyor is integrated into the exit end of the oven for ease of unloading the parts once heated. The conveyor will be integrated and sequenced with the customer's proprietary unloading robot and press. Blasdel built and supplied three NEMA 12, UL 508A Rated Control Panels for complete operation of the oven, conveyor and loader system. A PLC with a touchscreen is utilized for the heat control, conveyor and loader. The pick and place robot utilizes a rack and pinion modular actuator with guide rails to travel to either side of the conveyor entrance. Parts are picked from pallets provided by the customer. The pick and place robot will load blanks on the conveyor with each index utilizing suction cups.
To comply with safety regulations, a safety cage was custom designed to surround the entrance of the oven encompassing the oven entrance, the loader and magazines. The safety cage has two manual opening gantry doors with cable and counterbalance and is constructed of expanded metal for maximum durability. There is a hinged panel in the safety cage for access to the conveyor entrance. Opening the gantry doors or access panel will disable any robot movement. As with all our customized ovens, prior to this systems design and construction Blasdel utilized our full-scale testing lab to ensure the optimum performance of our planned design.
Blasdel Enterprises, Inc.
495 W. McKee St.
Greensburg, IN 47240
Phone: 812-663-3213
Contact:
Beth Blasdel
Plant Manager
email: beth.blasdel@blasdel.net
More from Thermal & Heating Equipment