Thermoelectric Cooled Incubator has power conserving design.
Press Release Summary: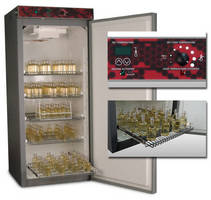 Environmentally friendly SHEL LAB Model LI20P, designed for low temperature applications, employs thermoelectric cooling technology that eliminates need for refrigeration compressor and thereby minimizes energy consumption. Heavy-duty shelving system, with 75 lb capacity per shelf, eliminates sagging shelves and allows unit to hold up to 300 BOD bottles. Temperature uniformity enables utilization of all shelving space within unit, without anxiety over sample degradation.
---
Original Press Release:

NEW Energy Efficient BOD Incubator Uses 78% Less Power!



Sheldon Manufacturing, Inc. introduces the SHEL LAB Model LI20P, the first widely available, environmentally friendly, thermoelectric cooled incubator designed for low temperature applications.

Using innovative thermoelectric cooling technology, Sheldon Manufacturing eliminates the need for a refrigeration compressor.

The result: a low temperature incubator that uses 78% less power than alternative models while reducing room air conditioning loads by producing 75% less heat.

"It's cheaper to save energy than to buy it," states Dan Sheldon, President of Sheldon Manufacturing, Inc. "Customers will save up to $450 per year on energy reductions from the thermoelectric cooling technology in the LI20P incubator."

The LI20P features a heavy-duty shelving system. It eliminates sagging shelves with a 75-pound capacity per shelf. Tests have shown that the LI20P shelving system can hold up to three times the amount of weight as alternative models. The unit can hold up to 300 BOD bottles, and because of its superior temperature uniformity, customers can use all of the shelving space within the unit without worrying about sample degradation.
The LI20P is available through SHEL LAB distribution partners. For full product details go to www.shellab.com.

About Sheldon Manufacturing, Inc.
Over the past 40 years Sheldon has worked with industry leaders to design solutions for production and research needs across the entire constant temperature/environment spectrum. Over that time our reputation has grown as an innovator of dependable and reliable equipment, designed for demanding environments. Sheldon Manufacturing, Inc. was founded in 1970 with the goal of being a worldwide leading manufacturer of constant temperature equipment and has been designing and manufacturing equipment for the biotechnology, pharmaceutical, research and production markets ever since.

For additional information contact:
Sheldon Manufacturing, Inc.
300 N 26th Avenue
Cornelius OR 97113 USA
Phone: 800-322-4897 or 503-640-3000
Fax: 503-640-1366.
E-mail: info@shellab.com
or visit their Web site: www.shellab.com


More from Electrical Equipment & Systems