Thermocouple Data Loggers offer real-time continual monitoring.
Press Release Summary: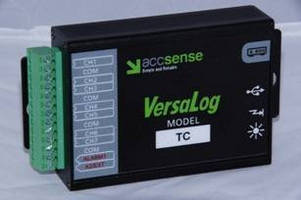 Featuring 8 channels and 16-bit ADC, Accsense VersaLog TC Temperature Data Loggers are suitable for life science, laboratory, and medical monitoring applications. Battery-powered, stand-alone units include 7 internal input channels that accommodate all types of external thermocouple probes. Supporting USB, serial, and Ethernet connections for local and remote access, devices provide alarm and excitation output that warn when critical parameters go out of specification.
---
Original Press Release:

CAS DataLoggers Develops New Low-Cost Temperature Data Logger



Accsense VersaLog TC—Affordable 8-channel Thermocouple Data Logger



CHESTERLAND OH—Workers and technicians in every field have an immediate need for a reliable yet affordable temperature monitoring and alarming solution. With their projects in mind, CAS DataLoggers has now developed the Accsense VersaLog TC Temperature Data Logger, a powerful low-cost device for real time continual monitoring. These battery-powered stand alone recorders feature 8 channels for flexible logging in life science, laboratory, medical monitoring applications, and more. With high speed, high-accuracy logging and configuration and plotting software, these data loggers offer a great value for a lower price than other devices on the market.



These inexpensive temperature recorders are economical even compared to the cost of an external probe and feature high accuracy, large memory capacity, and over 10 years of battery life. The 16-bit analog-to-digital converter meets most high-resolution requirements, so these new data loggers are well suited to any project where precise and accurate measurements are critical, monitoring anything from medical storage units to incubators. These devices support USB, Serial port and Ethernet connections for easy local and remote access, and the logger's alarm and excitation output warns you the moment that your critical parameters go out of specification. Now you can create your own customizable temperature monitoring systems using these economical new devices.



The new Accsense VersaLog temperature recorder is an 8-channel stand-alone thermocouple data logger. Its 7 external input channels accommodate ALL types of external thermocouple probes, and the thermocouple logger also records ambient temperature. The device can also be used as a small voltage data logger with the input voltage range as small as -8 mV to +8 mV. For demanding applications, the data logger can also operate in Fast Sampling mode, and a higher-accuracy version is also available to tackle especially demanding applications. Accsense VersaLog loggers are compact and lightweight, shipping in a small carrying case. Featuring a rugged aluminum enclosure and conformal coating PCB, these thermocouple loggers stand up to even the harshest industrial environment.



These new temperature recorders offer users convenient connection flexibility and are accessible via USB, modem or Ethernet connections with an auto baud rate of up to 115 kbps. The dataloggers can be powered easily and also be quickly hooked up to a PC via USB. Users can also utilize multiple VersaLogs for a truly comprehensive temperature monitoring solution with a large number of channels.



Users store data in non-volatile flash memory for easy retrieval. An internal battery is standard with the logger with a life of about 10 years. The data logger's large 4MB memory stores up to 2 million measurements and lets users log for extended periods with the choice to stop or overwrite logging when the memory is full. Wide-sampling interval selections range from every 20 milliseconds to every 12 hours.



To start logging whenever needed, users can program the dataloggers ahead of time. Two configurable alarm thresholds are available per channel, and the ALARM1 & A2/EXT terminal strips can be configured as alarm outputs so users can stay on top of sudden changes in their data. The onboard LED lights in red when in alarm condition, and with purchase of the inexpensive SiteView software, the VersaLog also reports its alarm status to a host PC via USB, modem or Ethernet device server. Alarm delay is programmable at 0-10 minutes delay with 1-minute increments.



Additionally, powerful software is available for configuration, downloading, plotting, analysis and alarm reporting. SiteView is a user-friendly Windows-based application with an easy-to-use graphic interface and supports USB, serial port and Ethernet connections for easy local and remote access. Fast communication speed up to 115200 bps enables quick downloads, and users can view data in real-time via chart recording. Versatile custom equations and custom-line equations handle complicated measurement requirements such as scientific and laboratory algorithm difficulties. Users can zoom in and out and also add comments to graphs to provide a detailed view of results.



Accsense VersaLog Product Manager Anthony Boyer explained the benefits of the new logger: "Our new VersaLog line is a great solution for your temperature monitoring project. Each unit gives you 8 channels recording at a high resolution, they're really easy to setup and use, and the software is loaded with features—all at an unbeatable price."



To get more details on our new Accsense VersaLog Temperature Data Loggers, other VersaLog models measuring additional values including humidity, current and voltage, or to find the right solution for your application-specific needs, contact a CAS Data Logger Applications Specialist at (800) 956-4437 or visit the website at www.DataLoggerInc.com.