Thermocouple Data Logger graphs data in field.
Press Release Summary: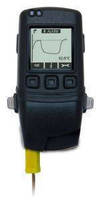 Equipped with graphic LCD showing real-time readings, graphs, and current status, Lascar EasyLog GFX-TC enables users to navigate onscreen menu and to start, stop, review, and restart logger in field. USB data logger measures and stores up to 252,928 temperature readings from J, K, or T-type thermocouple inputs at resolution of 0.1°C. Audible alarm and bright LED notify users of temperature excursions in applications such as medical storage units, cold chain logistics, and HVAC verification.
---
Original Press Release:

New from Lascar--Graphic Screen Thermocouple Data Logger



Graph Data in the Field with EasyLog Graphic Screen LCD Data Loggers



CHESTERLAND OH — CAS DataLoggers and Lascar introduce the new EasyLog GFX-TC Thermocouple Data Logger for a wide variety of temperature monitoring applications. Featuring a Graphic LCD showing real-time readings, graphs and current status, the logger enables users to navigate using an onscreen menu and to start, stop, review and restart the logger in the field. Complete with highly visible LEDs and audible alarm, these data loggers are now available at a low price for temperature monitoring of medical storage units, cold chain logistics, HVAC verification and more. Unshackle your data from PCs today!



Standalone Thermocouple Data Logger

Lascar's latest product in the EasyLog series is a standalone USB data logger that measures and stores up to 252,928 temperature readings from J, K, or T-type thermocouple inputs at a resolution of 0.1°C. The resettable Min/Max readings may be viewed on the LCD. Users can choose to sample temperature data at logging rates between 2 seconds and 1 hour.



View Data as a Graph Anytime

The data logger features a dot-matrix LCD and 3 face-buttons enabling users to quickly navigate through an onscreen menu. This menu provides users with access to real-time trend analysis, data summaries and the ability to start, stop and restart the data logger without needing to connect it to a host PC. Users can reset the maximum/minimum reading using the on-screen menu; this introduces an 'Event Marker' into the data which can later be viewed in the graphing software and the data file after download.



The audible alarm and bright LED immediately notifies users of temperature excursions such as when a refrigerator or AC compressor failure suddenly causes product temperature to rise. Users can preset the alarm limits to fit their own applications.



EasyLog data loggers have a rugged and robust design for standalone operation in the field and in extreme industrial environments. The data logger comes supplied with two user-replaceable ½ AA batteries and also features a micro USB port for PC-based setup and data download. Multiple data logging sessions can be stored on the device ready for upload to a PC via the micro USB interface.



EasyLog Control Software:

The core of Lascar's data logging solution is the free Windows control software available as a free download. Using a wizard format to guide the user through setup of the data logger and subsequent download of collected data, the software puts the 'Easy' into EasyLog. Users can set up the logger name, sample rate, alarm settings and choice of start modes (immediate, push to start, delayed or temperature-triggered). The software can be used to download the stored data which can be graphed, printed and exported.



Lascar's software is compatible with 32-bit and 64-bit versions of Windows XP, Vista and 7 (not compatible with Mac or Linux).



Lascar's Range of Graphic Screen Dataloggers

Lasacar's EasyLog GFX series of graphic LCD display dataloggers also includes a Single-Channel Temperature Data Logger and a Dual-Channel Thermocouple Data Logger. Lascar has graphic LCD data loggers recording temperature, humidity, and combination models recording both values.



For more information on our low-cost Lascar dataloggers monitoring temperature, humidity, voltage/current and more, or to find the ideal solution for your application-specific needs, contact a CAS Data Logger Applications Specialist at (800) 956-4437 or visit the website at www.DataLoggerInc.com.



Contact Information:

CAS DataLoggers, Inc.

12628 Chillicothe Road Chesterland, Ohio 44026

(440) 729-2570

(800) 956-4437

sales@dataloggerinc.com

www.dataloggerinc.com 

More from Software