Thermo Fisher Scientific to Showcase New Informatics Offerings at Analytica 2008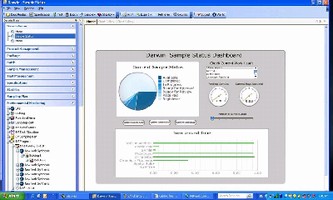 Philadelphia, Penn. (February 14, 2008) - Thermo Fisher Scientific Inc., the world leader in serving science, will showcase its new informatics offerings on #105/204, hall B1 at Analytica 2008, Messegelande Munich, from April 1 - 4, 2008. In keeping with the "Moving Science Forward" theme of its Thermo Scientific-branded products, the company will unveil a range of innovative new informatics products designed specifically to help scientists plan, manage and optimize the performance of their laboratories.

The Thermo Scientific informatics exhibit at Analytica 2008 will feature new additions to its laboratory information management system (LIMS) and chromatography data system (CDS) portfolio, including the European debut of Darwin 3.0 LIMS, its purpose-built solution for pharmaceutical manufacturing, R&D and QA/QC laboratories. The newest features built into the latest release of Darwin have been designed to help organizations meet FDA regulations, bring significant time savings in validation efforts, and afford cost savings in personnel and production time to the pharmaceutical laboratories. Darwin LIMS fully integrates environmental monitoring data into the batch record. The built-in charting tools allow users to visualize environmental monitoring samples by location. This ensures that any failure is apparent at the batch level and allows operations to quickly determine whether the source of the contamination is in the laboratory or the production environment. This functionality enables laboratory managers to react to nonconforming product before it reaches the consumer.

"By linking this data to the LIMS directly, pharmaceutical companies using Darwin can have greater confidence in the quality of their results and ultimately in the quality of the product they bring to the consumer. We believe no other LIMS vendor can offer the scope, breadth and depth of this functionality," says Dave Champagne vice president and general manager for informatics. Thermo Scientific Darwin 3.0 also includes built-in dashboard ready functionality to allow pharmaceutical lab managers make faster decisions.

Also on display will be Thermo Scientific SampleManager LIMS(TM), the company's flagship product for industrial process laboratories. SampleManager 9.2 makes its Analytica debut on booths #105/204. With version 9.2, SampleManager users benefit from a new and intuitive interface that is built on the Microsoft .NET framework with easy-to-use functionality. When users select data sets, the new, "inductive" interface simplifies work by presenting only certain, pre-defined tasks or steps that can be followed - greatly reducing errors and saving time. SampleManager also addresses the growing market need to comply with ISO 17025, specifically validation of methods, instrument calibration, control of non-conformance testing and reporting of results.

Visitors to booth #105/204 will also see a "sneak preview" of the next-generation Thermo Scientific Chromatography Data System (CDS), which integrates with LIMS and other data management systems to control LC/GC instruments and modules from numerous vendors in a manner that enables compliance with FDA regulations, including 21 CFR Part 11. The newest version of Atlas CDS(TM) also provides for chromatographic data mining, scalable WAN deployments, and enhanced security, in a real 24/7 acquisition environment. Thermo Scientific Atlas CDS provides a highly scalable client/server environment for laboratory LAN and WAN networks across a range of industrial settings such as pharmaceutical, petrochemical, chemical, environmental, water and wastewater treatment, and the food and beverage.

In addition, Analytica delegates can see product demonstrations of the entire Thermo Scientific informatics portfolio, including; Watson LIMS, the industry standard for bioanalytical laboratories and CROs; Galileo LIMS, which enables high-throughput compound screening for in-vitro ADME screening; and Nautilus LIMS for dynamic environments that require a flexible solution that can be easily modified as their workflows change, like research and contract organizations. Also on display is Thermo Scientific GRAMS spectroscopy software.

For more information about Thermo Scientific informatics solutions, please visit booths #105/204, hall B1 at Analytica 2008 in Munich. Alternatively, please call +1-866-463-6522, e-mail marketing.informatics@thermofisher.com or visit http://www.thermo.com/informatics.

Thermo Scientific is part of Thermo Fisher Scientific, the world leader in serving science.

About Thermo Fisher Scientific
Thermo Fisher Scientific Inc. (NYSE: TMO) is the world leader in serving science, enabling our customers to make the world healthier, cleaner and safer. With an annual revenue rate of more than $9 billion, we employ 30,000 people and serve over 350,000 customers within pharmaceutical and biotech companies, hospitals and clinical diagnostic labs, universities, research institutions and government agencies, as well as environmental and industrial process control settings. Serving customers through two premier brands, Thermo Scientific and Fisher Scientific, we help solve analytical challenges from routine testing to complex research and discovery. Thermo Scientific offers customers a complete range of high-end analytical instruments as well as laboratory equipment, software, services, consumables and reagents to enable integrated laboratory workflow solutions. Fisher Scientific provides a complete portfolio of laboratory equipment, chemicals, supplies and services used in healthcare, scientific research, safety and education. Together, we offer the most convenient purchasing options to customers and continuously advance our technologies to accelerate the pace of scientific discovery, enhance value for customers and fuel growth for shareholders and employees alike. Visit www.thermofisher.com.


More from Explosives, Armaments, and Weaponry