Thermo Fisher Scientific's HiperTOC Analyzer ....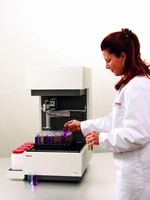 DELFT, The Netherlands, (April 30, 2007) - Thermo Fisher Scientific Inc., the world leader in serving science, announces that a leading global supplier of testing and thermal processing services, has selected the Thermo Scientific HiPerTOC Total Organic Carbon benchtop analyzer for its environmental inorganic and organic carbon analyses of water samples. Featuring an integrated 63-position XYZ autosampler, the HiPerTOC is able to run samples thoroughly, efficiently and with greater ease enabling to substantially reduce analysis costs whilst ensuring major productivity gains and time savings. Additionally, by achieving a very low detection limit of 0.04ppm, this analyzer exceeds the EN 1484 and EPA 415.1 environmental regulations detection limit guidelines, ensuring absolute compliance.

These strict guidelines were introduced to monitor the quality of waste water and drinking water. Total Organic Carbon (TOC) analysis indicates the presence of any organic compounds, some of which can be potentially dangerous in the cleaning process and have the potential to react with the disinfectants to form toxic and even carcinogenic compounds during the production of drinking water. To adequately measure for TOC, the EPA has set a detection limit of 0.500 mg/L. Instruments capable of analyzing TOC must meet and/or exceed these detection limit requirements.

The Thermo Scientific HiPerTOC analyzer is equipped with four different oxidation techniques for TOC analysis, high temperature oxidation, UV/persulfate, UV ultra pure and ozone promoted. The laboratory found that the analyzer provided accurate and precise results at both high and low concentration ranges in a wide variety of sample types ranging from dirty wastewater to clean drinking water. Additionally, requiring little or no training, the HiPerTOC analyzer has reduced training costs substantially. Due to the instrument's ease of use, even new personnel are able to operate it. Moreover, the size of the instrument is extremely favorable for the laboratory due to its small footprint.

For more information on the Thermo Scientific HiPerTOC analyzer, please call +1 800-532-4752, e-mail analyze@thermofisher.com or visit www.thermo.com/elemental

Thermo Scientific is part of Thermo Fisher Scientific, the world leader in serving science.

About Thermo Fisher Scientific
Thermo Fisher Scientific Inc. (NYSE: TMO) is the world leader in serving science, enabling our customers to make the world healthier, cleaner and safer. With an annual revenue rate of more than $9 billion, we employ 30,000 people and serve over 350,000 customers within pharmaceutical and biotech companies, hospitals and clinical diagnostic labs, universities, research institutions, and government agencies, as well as environmental and industrial process control settings. Serving customers through two premier brands, Thermo Scientific and Fisher Scientific, we help solve analytical challenges from routine testing to complex research and discovery. Thermo Scientific offers customers a complete range of high-end analytical instruments as well as laboratory equipment, software, services, consumables and reagents to enable integrated laboratory workflow solutions. Fisher Scientific provides a complete portfolio of laboratory equipment, chemicals, supplies and services used in healthcare, scientific research, safety and education. Together, we offer the most convenient purchasing options to customers and continuously advance our technologies to accelerate the pace of scientific discovery, enhance value for customers and fuel growth for shareholders and employees alike. Visit www.thermofisher.com.

More from HVAC