Thermo Fisher Scientific Granted Two U.S. Patents for Radiation Instruments That Can Help Lower Risk of Nuclear Terrorism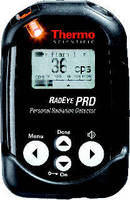 Thermo Scientific RadEye PRD helps border guards, customs agents or counterterrorism teams detect radiation sources more effectively than conventional personal detectors

OAKWOOD VILLAGE, Ohio - Thermo Fisher Scientific Inc., the world leader in serving science, today announced that its Radiation Measurement & Security Instruments business has been awarded two U.S. patents for radiation instruments that can help protect the public against the risk of nuclear terrorism.

RadEye PRD more effective than conventional personal radiation detectors

U.S. patent 7,456,405 B1 was granted for the radiation-measuring Thermo Scientific RadEye PRD, a small, portable, high-sensitivity, pager-like device. Unlike conventional radiation pagers, the patented method incorporated in the RadEye PRD allows the setting of alarm levels well below the typical range of natural background radiation. "This is extremely important when trying to detect and interdict radiation sources that, for example, a terrorist would attempt to hide or shield at a border crossing or during a customs search," said Mark Deacon, market development manager for security instruments. "Using the RadEye PRD, hidden and shielded radioactive material that emits gamma radiation is detected by the associated distortion of the natural background energy distribution." Since its market introduction in 2005, tens of thousands of RadEye PRD units have been deployed worldwide to support the efforts of homeland security forces.

Thermo Scientific test adapter makes field checks of radiation instruments more reliable

U.S. patent 7,544,927 B1 was granted for the innovative Thermo Scientific Lutetium-Oxide test adapter for beta and gamma sensitive radiation detectors. Based on specially shaped packaging of high-density Lutetium-Oxide ceramics, the patented test adapter overcomes the many disadvantages of conventional radiation check sources. Each of these innovative test-adapters possesses the same totally reproducible specific emission rates and homogeneity, providing the ability to perform quick and easy daily performance and calibration checks of radiation detection instruments in the field. The adapter is available in a design optimized for use with the Thermo Scientific RadEye product line, as well as in a disk form for use with most other radiation detection instruments.

"With the Thermo Scientific test adapter, now quick, easy and daily performance and calibration checks of radiation detection instruments can be carried out with confidence, especially in the field where this capability is most required. This ensures that our radiation instruments are working properly at key checkpoints," said Michael Iwatschenko, global portables product line manager. "The benefit for customers is that one test adapter is a perfect clone of the others. This simplifies calibration, meaning that an instrument reading in Los Angeles will be the same as a reading in Pittsburgh. Additionally, because Lu-176 has a half life of 37 billion years, customers avoid the need to perform half life corrections or continually replace decayed sources."

For more information about Thermo Scientific radiation detection products and systems, please visit http://www.thermo.com/rmp.

Thermo Scientific is part of Thermo Fisher Scientific, the world leader in serving science.

About Thermo Fisher Scientific

Thermo Fisher Scientific Inc. (NYSE: TMO) is the world leader in serving science. Our mission is to enable our customers to make the world healthier, cleaner and safer. With revenues of more than $10 billion, we have approximately 35,000 employees and serve customers within pharmaceutical and biotech companies, hospitals and clinical diagnostic labs, universities, research institutions and government agencies, as well as in environmental and process control industries. We create value for our key stakeholders through two premier brands, Thermo Scientific and Fisher Scientific, which offer a unique combination of continuous technology development and the most convenient purchasing options. Our products and services help accelerate the pace of scientific discovery, and solve analytical challenges ranging from complex research to routine testing to field applications. Visit www.thermofisher.com.

Media Contact Information:

Nicole Kelly

(440) 703-1511

nicole.kelly@thermofisher.com

www.thermo.com/rmp

For further press information, please contact:

Harry McBrien,

Maier True Communication,

1789 New Britain Avenue,

Farmington, CT USA;

Tel: 860-677-4581;

Fax: 860-677-5854;

E-mail: harry@maier.com.

More from Agricultural & Farming Products