Thermistor Probe Data Logger offers wireless connectivity.
Press Release Summary: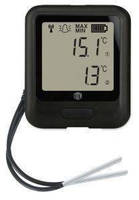 With 2 external probes, Lascar EL-WiFi-DTP+ measures temperature of environment from -40 to +125°C with typical accuracy of ±0.2°C. Unit can operate for up to 6 months on rechargeable internal lithium polymer battery. Logger's sensor collects data unattended while WiFi router sends data to FilesThruTheAir™ Cloud Storage Service, enabling users to manage and monitor sensors over Internet from any location. When alarms occur or if device needs attention, cloud can also send email alerts.
---
Original Press Release:

Dual-Channel Thermistor Probe WiFi Temperature Logger



Lascar Introduces the EL-WiFi-DTP+ for High-Accuracy Measurement



CHESTERLAND OH — CAS DataLoggers and Lascar introduce the EL-WiFi-DTP+ Thermistor Probe Data Logger for high-accuracy temperature measurement. Featuring Wireless connectivity to PC via WiFi and an integrated display, these data loggers send their temperature data online to the FilesThruTheAir Cloud Storage Service. Help protect your product or environment by receiving alarms on your PC or mobile device! Read more at http://www.dataloggerinc.com/products/ELWiFiDTPPlus_High_Accuracy_Dual_Channel_Wifi_Temperature_Data_Logger/448/.



High-Accuracy Temperature Recorder:

Lascar's new EL-WiFi-DTP+ data logger measures the temperature of the environment in which the two external probes are placed, recording temperature at a measurement range from -40 to +125°C (-40 to +257°F). This high-accuracy sensor is typically accurate to ±0.2°C (-15°C to +80°C). A calibration certificate is also available. The unit is freestanding, but can be attached to a wall or surface using the bracket provided. The thermistor probes are connected to the sensor via the provided 160mm Y splitter cable.



The data logger is powered by a rechargeable internal lithium polymer battery. When configured using typical sample and transmit periods the data logger can operate for up to six months. The battery can be recharged via a standard +5V wall adapter or a USB port using the cable provided.



Wireless Communication:

With Lascar, data collection, alarming, storage and accessibility are all automated for your convenience! The data logger's sensor collects data unattended while the WiFi router sends it to Lascar's FilesThrutheAir™ Cloud service. During configuration, the data logger will search for an existing wireless network while physically connected to the PC. It can then be placed anywhere within range of the network. Once configured, data logger settings can be changed remotely without the need to reconnect it to your PC.



If the data logger temporarily loses connectivity with the network, it will continue to log readings until the connection is re-established (max 30 days at 10-second sample interval). For durability the EL-WiFi-DTP+ has a protection rating of IP43 and the probes are rated to IP67. The data logger is IEEE 802.11b compliant, supports WEP, WPA/WPA2 encryption and enterprise networks.



With Lascar's free PC software you can choose to store your data either locally on a single PC or to make it universally accessible on the Cloud. Whichever you choose, you'll be able to analyze data, create graphs and export data in various formats.



Free FilesThruTheAir™ Cloud Service!

Lascar's FREE FilesThruTheAir™ Cloud service unlocks your sensors from the PC and enables you to monitor and manage them over the Internet from any location in the world. It's easy to view data on multiple platforms and devices—you can communicate with your sensor from your smartphone, tablet or PC!



The Cloud can also send you email alerts when alarms occur or if a device needs your attention. FilesThruTheAir™ is compatible with Lascar's entire range of Easylog WiFi data loggers, and is a great way for your business or organization to view real-time data on the Cloud at a low price point.



The FilesThruTheAir™ cloud service enables you to:




Store Data Online: No more hunting around for hardcopy records or PC files—with Lascar all your data is automatically uploaded to your Cloud account!



Receive Email Alerts: You'll get instant email alerts whenever your preset temperature limits are breached, as well as warnings for a low battery, AC mains disconnection or probe malfunction.



Connect from Your Mobile Device: View data in real time and change all sensor settings from any web-enabled device including smartphones, tablets or computers.



Monitor Multiple Sites: Get remote access to several locations, all from one device!



Give Multiple Users Secure Access: Cloud-based storage means that your data is protected, secure and limitless. You can link sensors from multiple sites in one account to give multiple users access to the Cloud. You can also determine which users have access to which data and assign account privileges.



CAS DataLoggers is a longtime Lascar distributor—we know these products and are happy to help you select the ideal model for your application. Reach for the Cloud today!



For further information on the new Lascar Dual-Channel Thermistor Probe WiFi Datalogger, additional Lascar WiFi dataloggers, or to find the ideal solution for your application-specific needs, contact a CAS Data Logger Applications Specialist at (800) 956-4437 or visit our website at www.DataLoggerInc.com.  



Contact Information:

CAS DataLoggers, Inc.

12628 Chillicothe Road

Chesterland, Ohio 44026

(440) 729-2570

(800) 956-4437

sales@dataloggerinc.com

www.dataloggerinc.com



More from Software