Thermal System instantly vaporizes burrs and flash.
Press Release Summary: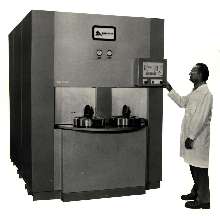 Large-capacity, 5-station EURO-TEM P-350 Thermal Energy Method system deburrs cast-iron, steel, stainless steel, brass, and aluminum parts, and deflashes zinc parts, completely eliminating burrs and flash internally and externally without parts wear, media or metallurgical change. Parts from 8 in. dia x 7 in. deep to 12.5 in. dia x 12 in. deep are accommodated. While parts are being deburred/deflashed in thermal chamber, other stations can be loaded and unloaded.
---
Original Press Release:

P-350 EURO-TEM Vaporizes Burrs and Flash in an Instant


SurfTran Manufacturing Co., L.L.C.- Madison Heights, Michigan
announces to the metalworking industry the EURO-TEM P-350 the
largest capacity Thermal Energy Method (TEM) deburring/deflashing
system for large parts manufacturers.

SurfTran's TEM Systems provide the ultimate solution for
deburring parts made of cast iron, steel, stainless steel, brass
and aluminum, and deflashing of zinc parts- completely eliminating burrs and flash internally and externally without
parts wear, media or metallurgical change.

The new EURO-TEM P-350 was designed and built in the USA to
meet European CE specifications from its control system to its
core elements for shipment to Europe. This system has been built
to accept larger parts in its new thermal deburring chamber
203mm (8")diameter x 178mm (7") deep and up to the size of 318mm
(12.5") diameter x 305mm (12") deep.

The EURO-TEM P-350 System has five parts holding stations for
production efficiency, while parts are being deburred/deflashed
in the thermal deburring chamber other stations can be loaded
and unloaded. Typical applications for the automotive industry
are transmission valves, fuel injectors, clutch housings and
gears. Other end user markets are hydraulic and pneumatic parts,
fittings and valves, turbo and supercharger components, and
small displacement engines.

The thermal deburring/deflashing cycle begins when the parts
are sealed in the chamber by a force of 350 tons, a mixture
of oxygen and natural gas is introduced completely enveloping
the part, a spark ignites the mixture, instantly vaporizing
all burrs, flash and metallic contaminants, internally and
externally.

The EURO-TEM P-350 is a versatile deburring/deflashing system
for widely different part configurations, unlike dedicated
deburring systems that are designed only for similar parts
that attempt to brush or tumble away burrs and flash with
inconsistent effects. The TEM systems provide reliable and repeatable deburring/deflashing results everywhere, every time.
SurfTran also builds Cationic electrolytic deburring/machining
systems, aqueous cleaning systems and general washing systems
for industry.

Please send inquiries to:
SurfTran Manufacturing Co., L.L.C.
30250 Stephenson Highway
Madison Heights, Michigan 48071
(248) 547-3133 Fax (248) 547-0206
Attention: Eden Diver

Related