Thermal Product Solutions Ships Thermal Shock Chamber to Manufacturer of Ceramic Parts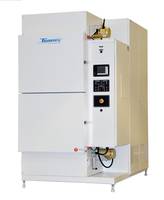 New Columbia, PA – April 23, 2017: Thermal Product Solutions, a global manufacturer of thermal-processing equipment, announced the shipment of a Tenney thermal shock chamber to a manufacturer of ceramic parts for the Aerospace, Medical and Electronics markets. The Tenney chamber will be used for various types of thermal shock testing.
The work chamber is 15" W x 15" D x 15" H.The maximum temperature of the hot chamber is 200°C and 40°C for the cold chamber. The minimum temperature for the hot chamber is above ambient and -73°C for the cold chamber. The "hot chamber" is on the top and the "cold chamber" is situated on the bottom.
This Tenney chamber meets the applicable test standards of MIL-STD202, MIL-STD883, and various automotive standards. The product under test is cycled between temperature extremes to expose faults in manufacturing or design. This cycling occurs by transfer of a product basket between the vertical zones.
"Because of the multiple requests for this model, we are pleased to announce that these specifications will now be a standard offering going forward. These thermal shock chambers are ideal for testing parts in the Aerospace, Defense, and Electronics industries." – Brad Conner
Unique features of this thermal shock chamber:
• Touchscreen Synergy controller with RS232 and ethernet communication capability. The Synergy controller also can log various types of data including temperature set point, actual temperature, PID outputs, controller events, and program start/stop.
• A 7.5 HP water cooled cascade refrigeration system is standard with the option to utilize a remote air cooled condenser.
• The carriage system has a load capacity rating of up to 200 lbs.
• A 2" traveling port is standard for this model to enable the end user to route cabling to the product being tested.
• An adjustable air stream allows the end user to fine tune the air distribution in the chamber to their product loading configuration.
About Tenney
Tenney and Lunaire boast one of the most comprehensive lines of standard and custom environmentaltesting chambers and rooms in the industry. Known for its innovative engineering and design, robust construction, and superior performance, the Tenney and Lunaire line of test chambers is designed to meet all of your temperature, humidity, altitude, vibration, and vacuum-testing requirements.Tenney and Lunaire environmental chambers, rooms, and ovens are backed by TPS's design assistance and global support and are available in a variety of configurations and footprints.
About TPS
Thermal Product Solutions ("TPS"), is a leading American manufacturer of industrial ovens, furnaces, pharmaceutical sterilizers, and environmental temperature cycling and stability test chambers. TPS is a global leader in thermal processing products and test solutions with brands including Baker Furnace, Blue M, Gruenberg, Tenney, Lindberg, Lunaire, MPH, and Wisconsin Oven. For more information on equipment solutions from TPS visit the website at www.thermalproductsolutions.com.
TPS
OLD ROUTE 15
NEW COLUMBIA, PA 17856 USA
T. 570.538.7200
F. 570.538.7391
More from Health, Medical, & Dental Supplies and Equipment