Thermal Product Solutions Ships Tenney Space Simulation System to a Logistics Company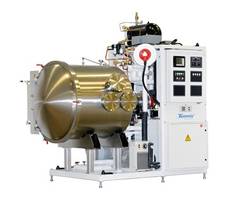 New Columbia, PA – June 5, 2017: Thermal Product Solutions, a global manufacturer of environmental testing equipment, announced the shipment of a Tenney Environmental Vacuum / Temperature Space Simulation system to a logistics company. The outer structural shell of the environmental simulator is designed to resist one atmosphere of external pressure while under vacuum.
The vessel has a 42" diameter and is 36.5" long. The temperature range of this space simulator is -60°C to +155° C. The temperature uniformity is ±5°C. A fluid conditioning system is employed to temperature condition the chamber using an electric immersion heater and an LN2 Fluid Cooling System to heat and cool a circulating heat transfer fluid.
The system is designed for vacuum performance of 1.0 x 10-6 Torr within two (2) hours based on a clean, dry, empty and outgassed system with the ultimate performance being 1.0 x 10-7 Torr. This chamber features a two-stage vacuum system, which employs a vacuum roughing pump in the first stage and a turbomolecular pump in the second stage.
"At Thermal Product Solutions, we want to provide the most advanced technologies for our customers. For this project, we used a stainless-steel vacuum vessel and temperature conditioned internal shroud to simulate outer space conditions."- Rick Powell, Vacuum Products Manager
Unique features of this Tenney environmental space simulator include:
VersaTenn Temperature Control System with data acquisition
Conditioned Thermal Base Plate on extension slides
Vacuum pumping system with roughing pump an turbo molecular pump
Granville Phillips 300 Series controller to monito chamber pressure
Six 6" access ports
LN 2 cooling system
Built in limit alarms
About Tenney
Tenney and Lunaire boast one of the most comprehensive lines of standard and custom environmental-testing chambers and rooms in the industry. Known for its innovative engineering and design, robust construction, and superior performance, the Tenney and Lunaire line of test chambers is designed to meet all of your temperature, humidity, altitude, vibration, and vacuum-testing requirements. Tenney and Lunaire environmental chambers, rooms, and ovens are backed by TPS's design assistance and global support and are available in a variety of configurations and footprints.
About TPS Thermal Product Solutions ("TPS"), is a leading American manufacturer of industrial ovens, furnaces, pharmaceutical sterilizers, laboratory ovens, environmental temperature chambers, and stability test chambers. TPS provides thermal processing and test solutions for a range of industries. TPS brands include Baker Furnace, Blue M, Gruenberg, Tenney, Lindberg, Lunaire, MPH, and Wisconsin Oven. For more information on equipment solutions from TPS visit the website at www.thermalproductsolutions.com
2821 OLD ROUTE 15
NEW COLUMBIA, PA 17856 USA
T. 570.538.7200
F. 570.538.7391
Contact This Company Download Spec Sheet
More from Health, Medical, & Dental Supplies and Equipment