Thermal Product Solutions Ships Lunaire Steady State Chambers to Technology Industry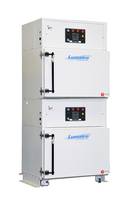 New Columbia, PA – April 15, 2017: Thermal Product Solutions, a global manufacturer of thermal-processing equipment, announced the shipment of two (2) Lunaire steady state temperature only chambers to the technology industry. The chambers can be used for various types of applications including stability, shelf life testing, pharmaceutical testing, packaging material testing, and incubation.
The temperature rating of these steady state temperature chambers is 0°C +99°C and the work chamber dimensions are 33" W x 28" D x 15" H. These chambers are a CEO908-2 and the 908 is the smallest of four (4) chamber sizes. The other CEO sizes are the 916, 932, and 958. These models are also available as temperature humidity chambers.
The Lunaire steady state test chambers have a unique air distribution system. The air supply enters the chamber through the right-side wall which features a pattern of adjustable air openings. These air openings allow the user to adjust the airflow pattern in the chamber to achieve optimum temperature uniformity. The return wall is located on the left side of the chamber workspace and has the same adjustable louvers for optimum performance.
"One of the main concerns for this customer was floor space. To maximize their available space, we created a "stacking ring" which allowed two chambers to use the floor space of one." Brad Conner, Applications Engineering Manager
Unique features of these steady state chambers:
F4 controller with RS485 communication capability
Adjustable chamber air pattern
High and low temperature alarms
3" through port on the rear wall of the chamber
Temperature control tolerance of ±0.3°C
One solid, adjustable shelf
About Lunaire
Tenney and Lunaire boast one of the most comprehensive lines of standard and custom environmental-testing chambers and rooms in the industry. Known for its innovative engineering and design, robust construction, and superior performance, the Tenney and Lunaire line of test chambers is designed to meet all of your temperature, humidity, altitude, vibration, and vacuum-testing requirements. Tenney and Lunaire environmental chambers, rooms, and ovens are backed by TPS's design assistance and global support and are available in a variety of configurations and footprints.
About TPS
Thermal Product Solutions ("TPS"), is a leading American manufacturer of industrial ovens, furnaces, pharmaceutical sterilizers, and environmental temperature cycling and stability test chambers. TPS is a global leader in thermal processing products and test solutions with brands including Baker Furnace, Blue M, Gruenberg, Tenney, Lindberg, Lunaire, MPH, and Wisconsin Oven. For more information on equipment solutions from TPS visit the website at www.thermalproductsolutions.com.
2821 Old Route 15
New Columbia, PA 17856 USA
T. 570.538.7200
F. 570.538.7391