Thermal Product Solutions Ships Blue M Laboratory Oven for Prominent Cosmetics Manufacturer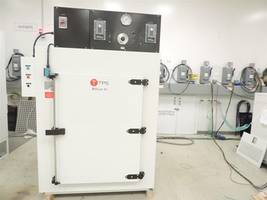 Thermal Product Solutions, a global manufacturer of thermal-processing equipment, announced the shipment of a Blue M lab oven to the cosmetics industry. The lab oven will be used in the customer's Aerosol Lab for shelf life testing of aerosol cans at 55°C (131°F).
The maximum temperature of this oven is 302°F and the work chamber is 37"W x 37"D x 48"H. To create an safer interior, this oven does not have heating elements and hot spots which are common sources of ignition if an aerosol can(s) would leak or rupture during shelf life testing. This also allows the customer to process larger quantities of aerosol cans. As an added engineered to order feature, an MSA LEL Monitor is installed that is set at 5% LFL. The MSA monitor will detect hydrocarbon gases that may be released during test.
Unique features of this Blue M oven include:
• Intrinsically safe interior
• No heating elements or heat spots that are sources of ignition
• MSA LEL monitor detect hydrocarbon gases that may be released during test
About Blue M
Blue M is recognized as an industry leader in the design, engineering, manufacture, and after-market support of industrial and laboratory ovens that are ideal for a wide range of applications. Blue M products are available in bench top, stacked, and cabinet models to accommodate a variety of capabilities and footprints.
About TPS
Thermal Product Solutions ("TPS"), is a leading American manufacturer of industrial ovens, furnaces, pharmaceutical sterilizers, and environmental temperature cycling and stability test chambers. TPS is a global leader in thermal processing products and test solutions with brands including Baker Furnace, Blue M, Gruenberg, Tenney, Lindberg, Lunaire, MPH, and Wisconsin Oven. For more information on equipment solutions from TPS visit the website at www.thermalproductsolutions.com.
More from Health, Medical, & Dental Supplies and Equipment