Thermal Product Solutions Ships Blue M Friction-Aire® Safety Oven to a Manufacturer of Consumer Products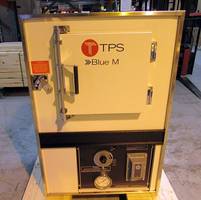 Thermal Product Solutions, a global manufacturer of thermal-processing equipment, announced the shipment of a Blue M Friction-Aire® Safety Oven to a manufacturer of consumer products. The oven has a maximum temperature rating of 260° C and work chamber dimensions of 14" W x 17" D x 12" H.
This Blue M solvent venting oven provides a controlled heat source without heating elements, which eliminates atmospheric explosions and ignitions when working with hazardous Class 1 or Group D materials. Class 1 atmospheres contain flammable vapors, and Group D materials include many solvents commonly used in applications in testing and processing of hazardous materials, paints, solvents, coatings, lacquers, oils, and gas.
This Blue M Friction-Aire® Safety Oven evaporates solvents quickly. A high-velocity airflow system and blower-generated heat create air turbulence and friction to attain even heat, with no hotspots, from 25⁰C to 260⁰C.
"This is the only industrial oven that provides a controlled source of heat without the use of heating elements. The patented Friction-Aire® system in this intrinsically safe oven eliminates atmospheric explosions and ignitions of hazardous materials that contain flammable vapors and solvents. It's also safer and offers more capacity and flexibility than typical oven configurations." - Ashlee Kaczorowski, Product Manager, Blue M
Unique features of this Blue M Friction-Aire® Safety Oven include:
100% straight-line proportional temperature performance
High-velocity air flow system
Blower-generated heat
No hot spots, no points that exceed the indicated air temperature
Setpoint control
Over-temperature protection system
Temperature-sensitive bellows
By-pass damper vane
Fast cool-down
Available in five models, including three that are UL listed
Contact This Company Download Spec Sheet
More from Health, Medical, & Dental Supplies and Equipment