Thermal Printer marks wire, tubing, and terminal blocks.
Press Release Summary: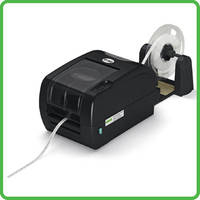 TP-343+ thermal transfer printer creates high-stability markings that are smudge-proof immediately after printing, as well as resistant to industrial chemicals and mechanical abrasion. It can print on wire markers and heat shrink tubing on continuous reel and supports ProServe 5.2's Smart Designer and Smart Marking functions. Features include an integrated label sensor and guiding block for WAGO marker strips.
---
Original Press Release:
WAGO Launches TP-343+ Thermal Transfer Printer
GERMANTOWN, WI - June 2009 - WAGO Corporation's new TP-343+ Thermal Transfer Printer provides easy, smudge-free text and graphics for identification of terminal blocks and/or wires/cables. Designed to support ProServe 5.2's Smart Designer and Smart Marking functions, the versatile TP-343+ can print on wire markers and heat shrink tubing on a continuous reel. The TP-343+ creates high-stability markings that are smudge-proof immediately after printing, as well as resistant to industrial chemicals (e.g., hydraulic oils and solutions) and mechanical abrasion. Features include an integrated label sensor (material end, foil end, bottom reflective sensor) and guiding block for WAGO marker strips. The TP-343+ is ideal for marking of the TOPJOB®S series terminal blocks, along with the 870, 869, 862, and 262 series. WAGO is the leader in spring pressure connection technology that eliminates loose wires resulting from vibration and temperature cycling, while providing highly reliable, corrosion-resistant and maintenance-free connections. Products: DIN-rail, PCB and chassis mount terminal blocks; signal conditioners; the WAGO-I/O-SYSTEM and more. For additional information, contact WAGO at 1-800-DIN-RAIL or info.us@wago.com. Contact:
Darrick Rejret,
Product Manager - ProServe
Phone: (262) 255.6333 Ext: 120
E-mail: info.us@wago.com
Product-specific Web page: http://www.wago.us/service/3670.htm
More from Construction Equipment and Supplies