Thermal POS Printers operate at speeds of 300 mm/sec.
Press Release Summary: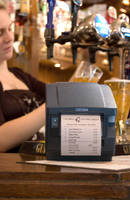 Equipped with LCD, Model CT-S851 provides front paper exit and spill-shield for use in restaurant and catering applications, while Model CT-S801 features top exit feed, designed primarily for retail applications. Units have thermoplastic case, all-metal internal mechanism, and connection via RS232C serial, parallel, Ethernet LAN and USB, USB with Hub, or powered USB options. In event of cutter jam, self-retracting cutters can be automatically reset by unlocking paper cover lever.
---
Original Press Release:

Citizen Launches World's Fastest, Feature-rich POS Printer for Hospitality, Catering and Pub Trade



Citizen Systems Europe, the leading manufacturer of bar code, label and POS printers, has launched what is believed to be the world's fastest high resolution family of thermal POS printers. Running at speeds of 300mm/sec, the new CT-S801 and CT-S851 machines are typically 50% faster than competing models, making them ideal for use in busy pub, catering and hospitality, or combined retail and catering, environments, where rapid customer service is crucial. Just as importantly, the new printers incorporate a host of innovative features including a front paper exit with spill shield, or top paper exit, both with quick change, trouble-free media mechanisms that minimise downtime and boost productivity and profitability still further.

In particular, the new POS printers are the first of their type to feature an integrated, high resolution LCD display, rather than two or three colour LEDs that are normally used. Introducing an LCD display enables each machine to be setup quickly and simply by unskilled operators, using standard language texts. Once in operation, the displayed messages can be customised to meet the needs of each application; for example, brand logos can easily be incorporated, as can information on who to contact for replacement paper rolls and simple to follow instructions on the steps to take if an operating error occurs.

Ease of use is improved still further through the use of quick loading media facilities, with paper rolls normally taking just seconds to replace and long life thermal heads and cutter units being snap-in devices, eliminating the need for tools or the services of a technician. In the event of a cutter jam, the integrated self retracting cutters can be automatically reset in seconds simply by unlocking the paper cover lever; this helps reduce downtime.

With a compact footprint, integrated power supply and a choice of top or front paper exit, the new printers are ideal for use in areas where space is at a premium. Each printer is built for a long operating life, with a 2 million cycle cutter, robust thermoplastic case and all metal internal mechanism, enabling it to withstand prolonged use without the risk of damage or malfunction. Connection is via RS232C Serial, Parallel, Ethernet LAN and USB, USB with Hub or Powered USB options.

Jörk Schüßler, POS Product & Marketing Manager for Citizen System Europe explains that, "We've enjoyed great success with our outgoing CBM1000 POS printers. These are now being replaced with the fully compatible CT-S851, which represents an important step forward for our customers in catering and hospitality. Indeed, this is the first time that printers of this quality and specification have combined such high speeds, with integrated LCDs and a wide range of features, to offer customers a solution that can truly help reduce the time taken at the checkout. Crucially, we have achieved all this and still produced a machine that is available through our European network of dealers and VARs at an extremely competitive end user price, making it a winner all round."

The CT-S851, with front paper exit and spill-shield for use in restaurant and catering applications, while the sister machine, the CT-S801 with top exit feed, is designed primarily for retail applications. This makes Citizen the only supplier with such high specification devices that offer common functionality and operation in complementary sectors, making it easy for combined retail and catering companies to standardise on a single machine and supplier.

Citizen Systems Europe

Citizen Systems Europe operates from locations throughout Europe covering the EMEA region. It offers a wide range of printers for industrial, retail, healthcare and mobile applications specialising in label, barcode, portable and point-of-sale printers. In each case, the company's products are sold and supported by a network of specialised partners.

Citizen Systems Europe is a wholly owned subsidiary of Citizen Systems Japan and part of the Citizen group of companies, a global organisation that manufactures products ranging from its world-famous Eco-Drive watches, calculators, mini-printers and industrial printing systems to machine tools, quartz oscillators, LEDs and other electronic components.

For further information contact Jörk Schüßler,

POS Product & Marketing Manager EMEA for Citizen System Europe

Citizen Systems Europe, 643 - 651 Staines Road, Feltham, Middlesex, TW14 8PA.

Tel: 020 8893 1900. Fax: 020 8893 0080.

Email: joerk.schuessler@citizen-europe.com

Web: www.citizen-europe.com.

More from Chemicals & Gases