Thermal Imaging System is suited for torpedo cars.
Press Release Summary: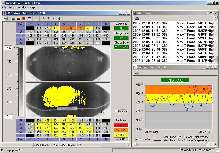 Torpedo Car Inspection System provides thermal inspection of exterior shell of torpedo cars. Thermal Fingerprinting feature identifies each car and links it with its temperature profile information by capturing raised or painted lettering on shell via thermal imaging cameras. Trend algorithm mathematically factors out external effects, while ability to connect 2 thermal imaging cameras with software enables full inspection of each torpedo car.
---
Original Press Release:

Ircon Adds New Features to Torpedo Car Thermal Imaging System


April 30th, Niles, IL - In 2002 Ircon introduced the Torpedo Car Inspection System for use in the steel industry. This system uses thermal imaging technology to help aid steel mills in the preventative maintenance of their torpedo car fleet. For 2003 Ircon has added several unique features to the Torpedo Car Inspection Software to further enhance this system.

Torpedo cars are large rail cars used to transport molten steel. The Torpedo Car Inspection System is used to provide thermal inspection of the exterior shell of the torpedo car. When shell temperatures exceed a certain limit the car is taken out of service for maintenance. Depending on the size of the mill there may be as many as 50 to 200 cars per plant.

Because of the number of torpedo cars used in a steel mill it is important to identify each car and link it with it's temperature profile information for historical reference. Ircon's Torpedo Car Inspection Software uses a new feature called "Thermal Fingerprinting" to identify each car. Raised or painted lettering on the shell of the torpedo car can actually be captured by the Ircon thermal imaging camera and linked to the temperature data through the software automatically. This feature eliminates the need for traditional RF tag readers used by the mill to track each car.

Another advanced feature added to the Torpedo Car Inspection Software is the use of a trend algorithm. Rain, wind, and other environmental factors can lead to false temperature readings with thermal imagers and line scanning devices. Ircon's trend algorithm mathematically factors out these external effects to provide a more accurate portrait of the actual shell temperature of the torpedo car. When this temperature is displayed over time, the user gets a better understanding of the health of the car without having to guess about the effects of weather skewing the data.

Finally, by taking advantage of the ability to connect two thermal imaging cameras with the software Ircon can provide FULL inspection of each torpedo car. With both cameras mounted at the pour station of the steel mill; the top, bottom, and both sides of the torpedo car can be captured while the car rotates to empty its load of molten steel. This feature allows for complete thermal inspection of car versus only the sidewall view of the car provided in more traditional systems.

Ircon believes that these new software features will make the Torpedo Car Inspection System an even better value for those steel mills that are looking to improve their torpedo car maintenance and reduce the liability of an unexpected breakout.

Related