Thermal Imaging Camera works with PC.
Press Release Summary: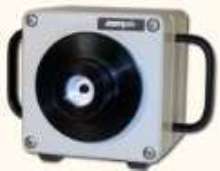 Real-time, radiometric Model 220 uses PC for camera control, image display, image analysis, and storage. Based on uncooled microbolometer technology, camera provides temperature measurements from 0-140ºC with thermal stability of less than 1ºC over 1 year. Images are 320 x 240 pixels and stored as TIFF files that retain all thermal characteristics. WinTES2 software provides range of analysis tools and accepts image files from other camera formats.
---
Original Press Release:

Compix Announces a Compact, Realtime Radiometric Thermal Imaging Camera and Software for Engineering and Process Control Applications


Lake Oswego, Oregon- Dec. 30, 2004 - Compix Incorporated, a manufacturer of low cost thermal analysis tools, today announced the Compix 220 realtime, thermal measurement camera and WinTES2 thermal imaging software. The 220 expands the Compix line of thermal measurement systems while adhering to proven approach of mating the camera and software with the power of the PC. The camera uses a personal computer for camera control, image display, image analysis and storage. With the Compix 220, WinTES2 and a personal computer (PC) the user has a powerful tool for analyzing thermal performance of electronic designs, or manufacturing processes.

Based on uncooled microbolometer technology the 220 provides temperature measurements from 0º to 140ºC with thermal stability of <1ºC over 1 year. Automatic temperature compensation assures measurements are valid over a wide range of ambient temperatures. The WinTES2 software expands the feature set of the previously introduced WinTES by providing a greater range of analysis tools, and equally as important, to accept image files from other camera formats.

Images are 320 x 240 pixels (interpolated from 160 x 120). Temperature sensitivity is greater than 0.1º C. This assures that small temperature differences will be detected and that small features can be measured. Images are stored as TIFF files that retain all thermal characteristics.

The highly flexible WinTES2 software offers a wide selection of "plug-in" modules to allow the camera to be adapted to new and changing measurement applications.

The 220 and WinTES2 software are available. Shipping capability is 2 weeks ARO

Compix Incorporated has been a leading manufacturer of thermal imaging cameras and systems since 1989. The company is located at 15824 SW upper Boones Ferry Rd., Lake Oswego, OR 97035. Telephone; 503-639-8496. E-mail: contact@compix.com. Website: www.compix.com

For more information:
Jim Walcutt, 503-639-8496, contact@compix.com

For product information: www.compix.com

More from Chemicals & Gases