Thermal Imaging Camera targets process control applications.
Press Release Summary: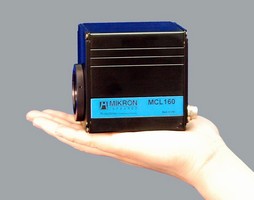 Providing non-contact temperature measurement solution, Mikron MCL-160 detects thermal abnormalities in process control applications, including fast moving targets such as high-volume manufacturing processes. It also suits applications in coal conveyor belt monitoring as well as food industry and plastics. Requiring no maintenance, radiometric camera is integrated with MikroSpec(TM)RT software, which provides users with complete configuration of imaging system.
---
Original Press Release:

LumaSense Technologies Announces the Release of Its New Mikron MCL-160 Thermal Imaging Camera



September 16, 2008 - Santa Clara, CA - LumaSense Technologies, a leading provider of infrared thermography and non-contact temperature solutions with its Mikron Infrared products, today announced the release of its new Mikron MCL-160 thermal imaging camera.

The MCL-160 is a cost-effective and fast response thermal imaging camera that can be used for process control applications requiring a comprehensive non-contact temperature measurement solution. The MCL-160 is able to detect thermal abnormalities in process applications instead of using multiple temperature sensors. It is the perfect solution for environments where quick, accurate temperature measurement is required of fast moving targets, such as high volume manufacturing processes. The MCL-160 is fully integrated with MikroSpec(TM)RT software providing customers a complete configuration of their imaging system. Our complete solution approach allows customers to have peace of mind knowing that we will provide the correct combination of lenses, software, enclosures and communication schemes to meet the most challenging imaging requirements. The MCL-160 is an excellent addition to LumaSense Technologies' well-established Mikron Infrared Process Imaging portfolio of products that include the M9200 designed for the Metals markets and the highly configurable M7500.

"The MCL-160 will allow for a new era of precision temperature measurement and process control. With the flexibility the camera offers, users will no longer have to rely on just a single-point temperature or questionable measurements to control their critical processes," comments Brett Sargent, Vice President of Sales. "The applications for this radiometric camera are endless; ranging from coal conveyor belt monitoring to the food industry and plastics. The MCL-160 will truly bridge the gap between single-point pyrometer measurements and expensive thermal imaging by offering a cost-effective solution with high accuracy, no maintenance and a complete picture of the process for monitoring and control. The MCL-160 is the equivalent of 19,200 pyrometers and is integrated into one cost effective package."

Process control in many applications typically means measuring a single point temperature and applying control that is based on only one data point. That data point may or may not be the critical parameter needed. Naturally, this means that something can be missed. Another option would be to install several (and sometimes even hundreds) of pyrometers on the process to understand what is going on. Why not take advantage of a comprehensive solution with the Mikron MCL-160 that will allow for complete radiometric measurement of the process in one low cost and maintenance free application?

For additional information, please visit:
http://www.mikroninfrared.com/contentNoRight.aspx?id=2192

About LumaSense Technologies(TM)

LumaSense Technologies is a global leader in providing quality sensor instrumentation to the industrial, medical and energy markets. LumaSense is an operating company with a strategy to acquire other leading sensor instrumentation companies serving similar customers with complementary technologies and products. LumaSense's acquisitions are industry pioneers with hundreds of global customers: Luxtron Corporation - fiber optic temperature measurement sensors; Innova AirTech Instruments - trace gas monitoring and analysis; Andros - non-dispersive and dispersive infrared gas analysis; Mikron Infrared - non-contact temperature measurement, thermal imaging systems and blackbody calibration instruments. LumaSense is backed by Oak Investment Partners, a leading multi-stage venture capital firm with a 28-year history and DFJ Element, a leading venture capital investor in clean technology.

To view the release online, visit

lumasenseinc.com/news/press_release_september_16,2008

For more information:

LumaSense Technologies

Judi Seavers

ph: 408-235-3813

j.seavers@lumasenseinc.com

More from Software