Thermal Imager provides 7 hr of uninterrupted inspection.
Press Release Summary: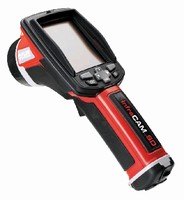 With removable 128 Mb SD/memory card, InfraCAM SD(TM) can store up to 1,000 images in JPEG format. Images can be inserted into email and Microsoft® Word, Excel, and PowerPoint from SD card, or shared with others in field on 3.5 in. LCD display. Able to measure temperatures from 14-662°F, unit includes Laser LocatIR(TM) to help operators associate hot spot on IR image with physical target. ThermaCAM® QuickReport software lets operators analyze captured images and create PDF reports.
---
Original Press Release:

FLIR Systems Launches New "SD" Model of its Popular and Low Cost InfraCAM Thermal Imager



The new, improved, and affordable SD model of the InfraCAM boasts 33% improved thermal sensitivity, increased storage capacity of 1,000 JPEG images with its removable SD/memory card, long 7-hour battery life, and weight of just 1.2 pounds.

BOSTON, Massachusetts (February 20, 2007) - Flir Systems, Inc., the global leader in infrared cameras, has introduced the InfraCAM SD(TM), a new and enhanced model of its popular InfraCAM thermal imager used worldwide by facility managers, electricians, and other predictive maintenance professionals to detect hot spots, avoid electrical failures, increase safety, and even prevent fires. Still affordable and easy-to-use, FLIR's 1.2 pound InfraCAM SD stores up to 1,000 JPEG images with its removable SD/memory card, ensures 7 hours of uninterrupted inspection time, and generates crisp, high quality thermal images.

With its removable 128Mb SD/memory card, the 1.2 pound InfraCAM SD can house up to 1,000 images in standard radiometric JPEG format. These images can be inserted into email and MicroSoft® Word, Excel, and PowerPoint from the SD card and shared with others in the field on the camera's bright 3.5" LCD display. A long-life battery ensures 7 hours of uninterrupted inspection, too.

The InfraCAM SD can measure temperatures from +14ºF to +662ºF (-10ºC to +350°C). Enhanced sensitivity of 33% significantly raises its image quality and enables operators to see small temperature variations on the camera's large LCD screen.

In addition, the InfraCAM SD offers a wide range of powerful features designed to make inspection even more accurate. The built-in Laser LocatIR(TM) quickly helps operators to associate the hot spot on the infrared image with the real physical target, which greatly enhances the ability to identify inconsistencies. The "Area min-max" function instantly finds the hottest or coldest temperature of a target and eliminates the risk of missing key information.

The InfraCAM SD also includes the ThermaCAM® QuickReport software which allows operators to analyze captured images and easily create PDF reports. The InfraCAM SD is also compatible with FLIR's new feature-rich ThermaCAM Reporter 8 software.

"The InfraCAM SD offers more image quality, more storage, and more value for money," commented Arne Almerfors, President for FLIR Systems' Thermography Division. "Infrared is our core business and we are committed to offering the advantages of this technology to new customer segments who are eager to expand their range of services".

FLIR's new and improved InfraCAM SD is available for delivery worldwide. Call +1-800-464-6372 or visit www.goinfracam.com to place an order or to obtain more information.

About FLIR Systems:
FLIR Systems, Inc. designs, manufactures, and markets thermal imagers and infrared camera systems worldwide for a variety of applications. FLIR's thermal imagers are used in such diverse applications as public safety, defense, navigation, electronic news gathering and search and rescue, as well as for electrical inspection, commercial and residential building inspection, indoor air quality and home energy monitoring applications, non-destructive testing, medical science, research and development, and manufacturing process control. For more information on all types of thermal imagers, please call +1-800-464-6372 or visit www.flirthermography.com.

More from Materials