Thermal Imager is suited for industrial maintenance work.
Press Release Summary: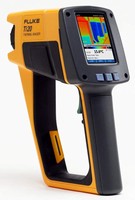 Fluke Ti20 includes portable, non-contact, fully radiometric camera that measures temperature from 14-662°F. Suited for IR predictive maintenance and troubleshooting applications, unit provides 3-step point, focus, and shoot operation and captures 14 bits of information on all of its 4,800 pixels. It displays thermal image and temperature reading on 5.5 x 7.5 mm color LCD and comes with Fluke InsideIR(TM) analysis and reporting software.
---
Original Press Release:

New Fluke Ti20 Thermal Imager Delivers High Performance, Low Cost of Ownership in a Complete Solution for Industrial Maintenance



EVERETT, WA - Fluke Corporation, the world's leading supplier of test and measurement equipment, is expanding its line of infrared thermography products with the Fluke Ti20 Thermal Imager. Designed for use by industrial maintenance technicians in infrared predictive maintenance (PdM) and troubleshooting applications, the Fluke Ti20 Thermal Imager offers a total solution in an affordable package.

The Fluke Ti20 Thermal Imager solution includes a portable non-contact fully radiometric camera that measures temperature from -10 to 350 degrees C (14 to 662 degrees F), Fluke InsideIR(TM) professional analysis and reporting software with full PdM routing support, training materials and accessories for less than $6,500. This enables industrial plant maintenance professionals to identify problems quickly and cost-effectively before they cause equipment failure. With the Ti20 plant technicians can achieve return on investment in the first three months of ownership by lowering downtime by just one hour.*

"Though the benefits of using thermal imaging for predictive maintenance are clear, the technology is considered by many to be cost-prohibitive or too complex for everyday use," said Nick Longman, Thermography Business Unit Manager for Fluke. "With the introduction of the Ti20 and our recent addition of Infrared Solutions, Fluke is making it feasible for a wider range of organizations to use thermography as an ongoing part of a comprehensive predictive maintenance management program. It's a valuable tool in helping reduce the cost of maintenance while improving efficiency in manufacturing and production environments."

"Thermal imaging equipment doesn't have to be too expensive or too difficult for widespread use in predictive maintenance applications," said Longman. "By including the software, training materials and accessories in the package, maintenance professionals and consultants can design inspection routes and allow onsite technicians to use the simple interface on the Ti20 to capture highly accurate images for later analysis. The Ti20 extends our line of affordable thermography solutions and sets a new benchmark in delivering quality and performance at a low cost of ownership."

Fluke InsideIR software enables maintenance professionals to create an equipment inspection route designed to improve the accuracy of subsequent readings. Images from the first inspection are tagged with location names and temperature data using the software and then uploaded back to the imager with instructions that appear as on-camera prompts for the field technician taking new readings. By comparing new images with previous scans of the same equipment, users can identify maintenance trends, spot problems before they become critical and expensive to fix, and verify that repairs have been made for tracking purposes. The software allows users to share complete route sessions via email.

The Fluke Ti20 accurately measures absolute temperature and captures 14 bits of information on all of its 4800 pixels; displaying both the thermal image and temperature reading on a large 5.5 mm x 7.5 mm color LCD. Its intuitive menu structure and three-step point, focus and shoot operation is designed to enable even novice users to learn in minutes how to capture and store quality images in the field.

Users can adjust critical parameters including emissivity, reflected temperature compensation (RTC) values, palette, level and span and high and low temperature alarms, both in the camera or by using Fluke InsideIR software. Captured images can be analyzed using point measurement, area measurement, and horizontal and vertical axis profiles.

The software includes reporting features designed to help maintenance professionals organize, analyze and share critical PdM program information quickly and conveniently. Images can be organized by date/time or other user-defined criteria into routes that can be quickly scanned in a thumbnail view and exported as a session for further analysis. In addition, users can save images in standard graphical formats for insertion into presentations and documents, and save full reports in Word, Excel, .pdf and .rtf formats.

The rugged Fluke Ti20 Thermal Imager stores 50 images and runs for 3.5 hours on standard AA batteries or a rechargeable battery pack for maximum productivity and flexibility in the field. The Ti20 imager comes with all necessary accessories, unlimited use of InsideIR analysis and reporting software and training materials.

Price and Availability

The Fluke Ti20 Thermal Imager is available from Fluke representatives and distributors worldwide, and is listed at $6,495 USD MSRP. For more information or to find the location of the nearest distributor, contact Fluke Corporation, P.O. Box 9090, Everett, WA USA 98206, call (800) 44-FLUKE (35853), fax (425) 446-5116, e-mail fluke-info@fluke.com or visit the Fluke Web site at: www.fluke.com.

About Fluke

Fluke Corporation is the leader in compact, professional electronic test tools. Fluke products are used by technicians and engineers in service, installation, maintenance, manufacturing test and quality functions in a variety of industries throughout the world. Fluke is a registered trademark of Fluke Corporation in the United States and other countries.

* Based on an independent study of industrial settings by Acuity Market Research, in which industrial maintenance professionals valued downtime at $10,000 an hour. For a copy of the study, visit fluke-thermography.com.

More from Waste Management & Waste Handling Equipment