Thermal Evaporators minimize wastewater.
Press Release Summary: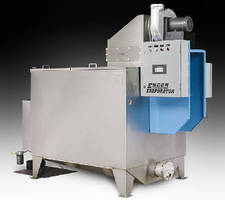 Available in sizes from 8–400 gph, ENCON Thermal Evaporators are capable of handling different waste streams simultaneously and offer variety of heat source options. Systems include 316 SS tank and heat exchanger, 1,725 rpm blower system, PLC control panel with touchscreen, and built-in Ethernet port for remote program modifications and/or troubleshooting. Capturing unwanted contaminants before exhausting, mist eliminator enables compliance with stringent emissions regulations.
---
Original Press Release:
Save Big on Wastewater Disposal Costs with ENCON Thermal Evaporators
Hooksett, New Hampshire – ENCON Evaporators, a leader in low cost wastewater minimization solutions, is proud to present the ENCON Thermal Evaporator. The environmentally friendly ENCON Thermal Evaporator is engineered to provide the most effective and economical method of wastewater minimization possible. This proven design requires minimal labor to operate and it has the ability to handle different waste streams simultaneously. ENCON Thermal Evaporators are made with the highest quality components, including an industry leading heat exchanger design that provides extremely efficient heat transfer, resulting in reduced fuel costs. The mist eliminator system captures unwanted contaminants before exhausting, enabling compliance with today's stringent emissions regulations. A wide variety of heat source options are available, including innovative options that can reduce your operating cost to almost zero, such as waste oil and off-spec gas from landfills.

Features include:
• Ability to handle different wastewater streams...simultaneously
• Dramatically reduce disposal volume and cost
• A wide variety of heat sources means you can choose the heat source that is most economical for you. Options include: Natural Gas, Propane, Steam, #2 Fuel Oil, Diesel, Kerosene, Electricity, Waste Oil, and Off-Spec Landfill Gas
• Easy to install and operate
• 316 ss tank and heat exchanger come standard. Other alloys available for more corrosive application.
• PLC control panel comes standard with a touch screen OIT.
• Built-in Ethernet port for easy remote program modifications and/or troubleshooting of the system by ENCON personnel.
• Stainless mesh mist elimination system to capture unwanted contaminants before exhausting.
• 1725 RPM blower system for extremely quiet operation and as much as three times the longevity of 3450 RPM blowers.
• Condenser systems available to capture distilled water from exhaust.
• Available in sizes ranging from 8gph up to 400 gph.

Need even more processing capability or even more energy efficiency? Check out the ENCON MVC Evaporator line.

Need something a little smaller? Check the line of ENCON Drum Evaporators.

About ENCON Evaporators:
ENCON Evaporators is a leading manufacturer and designer of industrial evaporation, distillation and desalination systems. Product offerings include Drum, Thermal, and MVC Evaporators as well as Crystallizers and Dryers. Since its founding in 1993, ENCON Evaporators has shipped over a thousand systems both domestically and internationally. ENCON is a leader in low-energy-cost solutions, including the MVC Evaporator ($0.01-0.02 per gallon of distilled water) and the Waste Oil Evaporator, which uses waste oil as the heat source. Capacities for ENCON evaporator systems range from 2 - 4,000 gallons per hour.