Thermal Disk Link is reusable and re-settable.
Press Release Summary: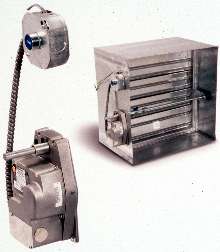 LloydStat(TM) works with smoke/fire damper equipment to prevent ductwork damage via controlled closing mechanism. It closes and locks damper upon smoke detection, fire conditions, or power failure via actuator closure spring. Unit operates using electric bi-metal disc sensor thermostat that interrupts power to actuator. Once activated, spring return closes and locks damper within 10-15 sec. Once unit cools below sensor set point, product returns damper to open position.
---
Original Press Release:

New LloydStat(TM) Faster than Fusible Link and Re-Settable


MONTGOMERYVILLE, PA (8/21/03)-Lloyd Industries has developed an all-new reusable easily re-settable thermal disk link for select smoke/fire damper equipment. The LloydStat(TM) is designed to react faster than fusible links for greater safety and property protection, and to prevent ductwork damage via a controlled closing mechanism. It is designed to close and lock the damper under smoke detection, fire conditions and power failure through an actuator closure spring. LloydStat(TM) operates using an electric bi-metal disc sensor thermostat that interrupts power to the actuator and, once activated, the spring return closes and locks the damper. The LloydStat(TM) is more temperature sensitive than a standard fusible link, releasing in half the time of its predecessor. That is because conventional fusible link technology requires additional time to melt upon reaching 165°F, barely meeting the one-minute closing requirement. The LloydStat(TM) controlled closure device allows a spring return to slowly close the damper within 10-15 seconds rather than immediately. Because it remains connected to the actuator, the gradual damper closing prevents the potential for costly duct disruption or collapse. Once the unit temperature cools below the sensor set point, LloydStat(TM) automatically returns the damper to the open position from outside the duct via a reset button. Lloyd Industries manufacturers a complete line of products for the building industry from roof curbs, equipment rails and backdraft dampers to its new 4" and 6" drainable louvers. Leading the way for prompt delivery services, Lloyd Industries is committed to ensuring that all products reach your job site on time. For more information, call (215)412-4445 or visit firedamper.com.

Send inquiries to:
Attn. Bill Lloyd, President
Lloyd Industries
231 Commerce Drive
Montgomeryville, PA 18936

More from Materials