Thermal Analyzer suits glass manufacturing processes.
Press Release Summary: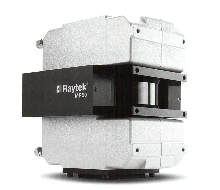 GS100 Process Imaging System is suitable for secondary glass operations such as glass bending, forming, annealing, and tempering. It measures temperature distribution of glass parts and transmits to PC, where software creates two-dimensional thermal images. Operator can create custom system configurations for any type of glass product or glass furnace. Product specific configurations, data files, and thermal images can be stored and recalled.
---
Original Press Release:
Raytek Introduces An Innovative Process Imaging System For Glass Bending, Forming, Annealing, And Tempering Processes

Raytek Corporation, a leading supplier of noncontact temperature measurement solutions for industrial applications has introduced its new GS100 Process Imaging System, specifically designed for secondary glass operations such as glass bending, forming, annealing, and tempering. Featuring DataTemp GS100 software and the Raytek MP50 Process Imager- this easy-to-use thermal analysis system increases operating efficiency, product quality and uniformity.

Temperature is a critical variable affecting the productivity and quality of any secondary glass processing operation. Knowing the temperature distribution of the glass part helps improve the operating economy of virtually any secondary glass process. With the user-friendly technology of the GS100 System, glass manufacturers can accurately and continuously monitor temperature distribution of any heated glass part.

"Our analysis of quality improvements and scrap reductions in safety glass bending operations indicates that the GS100 System pays for itself in a matter of months," says Alan Young, Raytek Product Manager for process imaging. "In fact, the new system has already proven its effectiveness on automotive safety glass bending machines in Europe."

Following mechanical installation of the scanner, the entire GS100 System can be operational in about 30 minutes. The DataTemp GS100 software leads the system operator through installation and configuration with a simple-to-follow point-and-click user-interface.

Basically, the MP50 Process Imager measures the two-dimensional temperature distribution of a glass part. The digital temperature information is then transmitted to a PC, where DataTemp GS100 software translates the data into a two-dimensional thermal image for display on the PC monitor. DataTemp GS100 software allows the operator to create custom system configurations for virtually any type of glass product or glass furnace. These product specific configurations, data files, and thermal images are easily stored and recalled.

The GS 100 System subdivides the thermal image into a selected number of rectangular zones corresponding to those in the furnace, and the software displays these zones as a grid superimposed on the thermal image. The software analyzes the temperature distribution in each zone to facilitate analysis of forming/bending or annealing/tempering operations and facilitates manual or closed-loop control of the power to each heating element. With this critical information, operators can read zone temperatures immediately for each part, and program automatic alarms for any zone out of limit. Early detection of heater problems or failed heating elements can help improve product quality, uniformity, and provide added cost savings.

The basic GS100 System includes Raytek's MP50LT Process Imager, DataTemp GS100 software, DataTemp MP (Raytek's general purpose imaging software), and industrial power supply. The GS100 System is priced starting at approximately $13,750 USD.
More from Packaging Products & Equipment