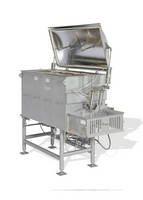 Mepaco's Model 170 ThermaBlend is engineered to handle a wide range of food applications from thick and viscous meat-based products to delicate soups and sauces. With its unique design, the ThermaBlend offers superior heating and cooling characteristics and is perfectly suited for cooking, searing, caramelizing, chilling, sautéing and blending.

Benefit from:

Up to 50% more heat transfer and better homogeneity than hemispherical kettle designs

Dramatically reduced cycle times for cooking as well as cooling

Reduced operation and energy costs due to improved efficiencies and durable design

Mepaco is a pioneer in the meat processing and food processing industries. Since 1932, the company has led the industry in grinding, blending, thermal processing, and material handling solutions.

For more information, contact Tom Hoffmann: Mepaco
P.O. Box 538
Beaver Dam, WI 53916

(P) 920-356-9900
(F) 920-887-0206
(E) info@mepaco.net
(W) www.mepaco.net

PROCESS EXPO is the premier worldwide trade show for leaders in the food and beverage industry. Held Nov. 1-4, 2011, at McCormick Place in Chicago, Illinois, the show will feature the latest processing technologies presented by 350+ exhibitors. A world-class educational program, including a full day of Spanish-language sessions, will provide much of the technical expertise to complement the practical applications seen on the show floor. PROCESS EXPO is produced by The Food Processing Suppliers Association (FPSA), a global trade association serving suppliers in the food and beverage industries. Register today at www.myprocessexpo.com.

More from Material Processing