The Tianma Group Announces Three Technology Innovations as People's Choice Award Nominees at Display Week 2019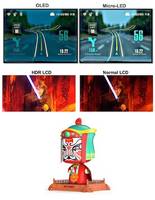 Chino, CA, May 9, 2019 – The Tianma Group is introducing three advanced technologies at Display Week 2019 – 7.56" Micro LED, LTPS Mini LED High Dynamic Range (HDR) LCD, and a new Flexible AMOLED – all of which have been nominated in the show's "People's Choice Award" competition.
7.56" Micro LED
Tianma has developed the world's first Micro LED display with over 60% transparency and a resolution of 720*480 (114PPI), along with an ultra-thin border of less than 0.8mm (left and right). Compared to OLED, Tianma's Micro LED display is better suited for automotive applications due to its high image stability and longer life. The transparent Micro LED display is ideal for use in a HUD or car window application. 
LTPS Mini LED High Dynamic Range (HDR) LCD
Tianma's LTPS Mini LED HDR LCD is an advanced technology for mobile phone applications, capable of accurately reproducing life-like images comparable at a performance level to that of OLED technology. With the Mini LED driven by AM-TFT, this allows for an ultra-high number of local dimming zones (4,608). Tianma's LTPS Mini LED HDR LCD achieves the following performance benchmarks: dynamic CR 20,000:1~1,000,000:1; max. brightness of 800nits; minimal light leakage; and NTSC at 96%, making this an ideal solution for outdoor and high ambient light conditions.
Robot Face with Flexible AMOLED
Tianma has applied its flexible AMOLED display to a robotic Sichuan Opera Face, an ancient Chinese dramatic art involving colored masks. The unique design and application with its flexible AMOLED bendable qualities highlight Tianma's advanced technology capabilities. This light and thin full-screen display features an out-folding radius of 5 mm and can withstand 200,000 bending cycles.
Tianma will feature these demos at Display Week 2019, May 14 to 16 in San Jose, California, USA, in Booth 1007. 
About Tianma America, Inc.
Tianma America (TMA) is the leading provider of small- to medium-size display solutions to the Americas market utilizing advanced technologies and manufacturing resources of the Tianma Group Companies, which includes Tianma Micro-electronics (Shenzhen and Shanghai) and Tianma Japan, Ltd. (formerly known as NLT Technologies Ltd.), as well as manufacturing locations in Chengdu, Wuhan, Xiamen, Shenzhen and Shanghai China. Tianma America technologies can be found in smartphones, tablet PCs, industrial and medical instrumentation, wearables, home automation, household appliances, office equipment, and automotive and rear seat entertainment devices. Additional applications include test and measurement systems, instrumentation equipment, point-of-sale and ATM systems, gaming systems, global positioning systems, radio-frequency identification devices and barcode scanners. 
Tianma America's technology portfolio comprises TFT, LTPS, Oxide-TFT, AM-OLED, flexible, transparent, 3D, PCAP and In-cell/On-cell integrated touch. With a network of best-in-class distributors and value-added partners, Tianma America provides complete display module solutions for a broad base of customers and applications. 
The content in this press release, including, but not limited to, product prices and specifications, is based on the information as of the date indicated on the document, but may be subject to change without prior notice.
Media Contact:
Bill Maurer
Macrovision, Inc.
215-327-8109
bill@macrovis.com
More from Packaging Products & Equipment