The New Lufkin® XL8525...Wider, Longer, and Lower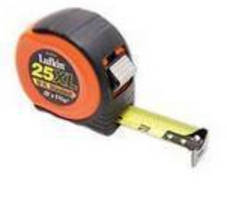 Our latest model has a new wide blade and longer 10ft standout, all at a great price.

With its 10ft standout, the XL8525 tape is a real time-saver for framers, roofers, drywallers and re-modelers, but that's not all...its easy-to-find Hi-Viz® orange high-impact ABS plastic case is wrapped with a durable co-molded grip that's exceptionally comfortable.

Even the blade lock button has a soft rubber insert for maximum comfort. The end hook is quadruple-riveted and steel reinforced and its entire blade has an abrasion-resistant protective Clearcoat for long service life.

More from Construction Equipment and Supplies