The New Curated Color Collection from Dura Supreme Offers an on Trend Selection for Cabinetry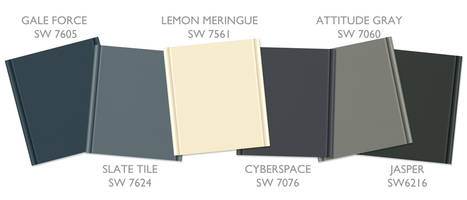 Howard Lake, MN: Dura Supreme has introduced a new Curated Color Collection to help designers and homeowners select from a curated set of top trending painted finish options for their cabinetry.
Dura Supreme's Curated Color Collection will be updated annually as color trends shift. This offering of colors will always be fresh and current, and reflective of popular color trends for home interiors and cabinetry. According to Karen Wistrom, VP of Marketing, "This has been the year of Navy Blue for accents in kitchen and bath cabinetry or even throughout an entire kitchen. The challenge for homeowners and designers is "Which shade of Navy Blue?" Dura Supreme's Curated Color Collection selects six specific shades of trending colors and makes them readily available for your custom crafted cabinetry."
The six colors released for the Curated Color Collection include Gale Force (SW 7605), Jasper (SW 6216), Cyberspace (SW 7076), Lemon Meringue (SW 7561), Slate Tile (SW 7624), and Attitude Gray (SW 7060). These colors will be available as Curated Color orders until December 31, 2018, when new colors will be curated and introduced to the collection.
About Dura Supreme Cabinetry
Located in Howard Lake, Minnesota, Dura Supreme is a second-generation, family-owned company that manufactures semi-custom and custom, framed and frameless cabinetry for a nationwide network of dealers. For 50+ years homeowners and designers have looked to Dura Supreme for kitchen and bath cabinetry that fulfills their desire for personalized design choices and outstanding quality of construction. To learn more about Dura Supreme or to contact an authorized Dura Supreme cabinetry dealer visit www.durasupreme.com.
More from Fluid & Gas Flow Equipment