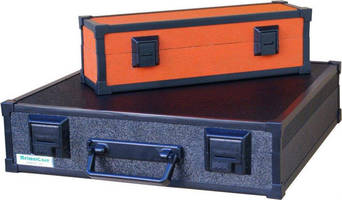 Huntington Beach, CA – Melmat is modernizing the case industry with the release of their new MelmatCase™, a custom designed plastic case for the storage of precision tools, test equipment, lenses, gauges and other valuable items.   The MelmatCase™ is specifically engineered as a superior replacement for the wood gauge boxes of the past.  



As a new version of Melmat's highly successful SpaceCase™, the MelmatCase™ offers superior protection from the elements with its heavy gauge precision CNC-cut ABS plastic panels.  The panels are constructed with reinforced edges & corners. They also withstand moisture and dust and add strength while preventing cracking and splintering.  The grained finish resists wear and will not need to be refinished.  The newly designed all plastic latches and hinges complement its design and will never discolor or rust. Special optional features include dividers, foam inserts and silk screen/graphic printing.  



Melmat offers quick turnaround times with the flexibility to make cases to your exact size requirements in quantities of one or more.  Sizes range from 2.5" to 96" long and can be customized with your logo and color requirements. Stock sizes available.



Melmat Inc. offers a wide variety of transport and storage solutions and has over 40 years of experience in the industry as a manufacturer, distributor and designer.  Call today or visit online for more information.



For media inquiries, please contact John Mellott at

[email protected]

.