The Hold'n Fold® Collapsible Storage Container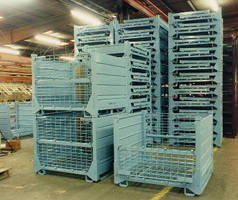 The Solution to High Storage and Return Shipping Costs

The heavy-duty container takes a third of the space of rigid containers when collapsed, minimizing storage and shipping cost, while stacking up to six high and lasting decades.

When shipping parts, manufacturers often end up wasting money sending large, empty containers back to suppliers. When the containers return to the warehouse, they waste more money by taking up valuable storage space until used.

There is a solution to these wasteful practices: the Hold'n Fold Industrial Storage Container by Steel King collapses to a third of its original size when empty, taking a fraction of the shipping and storage space of standard containers and dramatically cutting costs.

With a patented design that allows the sides to fold down when empty, three collapsed containers can fit into the storage space of a same-sized rigid container. When ready for use, simply lift the Hold'n Fold's sides into position, which lock in place automatically, and they are ready to fill.

What's more, the Hold'n Fold is securely stackable.

"Up to seven folded Hold'n Fold Storage Containers can fit stacked in the vertical space of a typical trailer van, compared to just two empty 42" high, stacked rigid containers," says Garry Grzesiak, Director of Container Design and Sales at Steel King. "For automotive, foundries, construction or any industry that wants to significantly cut the cost of parts shipping and storage, this container can help boost the bottom line."

When folded, the Hold'n Fold containers can be safely stacked to the ceiling of 24' high storage areas, maximizing vertical storage space when not in use. A patented 5-gauge socket with stacking plug keeps them locked together so they don't slide around. As the containers self-lock when folded, there's no need for the costly banding often required of collapsible wire containers to keep them from tipping when stacked, another cost savings.

"Unlike typical collapsible wire containers which can wobble when stacked, the
Hold'n Fold is designed for stacking stability to maximize vertical storage space and safety," says Grzesiak.

Because the Hold'n Fold Collapsible Storage Container is stackable up to six high while fully loaded, it also maximizes storage and dispensing capacity within tight production spaces. Its 4,000 lb. capacity offers about double that of collapsible wire containers.

The innovative container also combines the cost savings of a collapsible (light-duty) container with the durability of a rigid (heavy-duty) container. Its 2-1/2" square tubular construction increases its rigidity and durability so it can last decades under heavy indoor/outdoor use-which makes buying costly replacement containers unnecessary.

The container can also make work areas double as ergonomically efficient storage and dispensing units, speeding production and cutting material handling cost. Workers simply open the container's optional one to four drop gates to position it for easy, ergonomic part access. This eliminates having to unstack containers in storage to retrieve parts. It also avoids reaching over the container's top for materials, streamlining production and helping to prevent repetitive stress and back injuries.

To optimize operational efficiency, the Hold'n Fold Collapsible Storage Container can be customized to suit specific material handling and operational needs. Load capacity, base size, side height, side material, and decking material, for instance, can be specified. Optional skid bars, fork stirrups and fork tubes can enhance container loading, stacking, and maneuverability.

The Hold'n Fold Collapsible Storage Container is available through Steel King's 48 Hour Quick Ship Program, where with one phone call the order is placed and freight arrangements are taken care of. This eliminates the hassle of trying to find an affordable carrier with an available truck in the area, and saves time and money by helping to coordinate shipping and installation.

A choice from a variety of standard colors, including complementary company graphics, allows color-coding the containers to a specific plant, product, operation, or department.

For more info, contact Donald Heemstra at Steel King, 2700 Chamber St., Stevens Point, WI 54481; call 800-826-0203; email: dheemstra@steelking.com or visit the website www.steelking.com.

More from Electrical Equipment & Systems