The EZ Rig Crane is for unique lifting systems
Press Release Summary: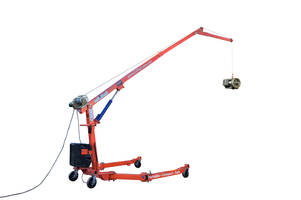 The EZ Rig Crane is a compact, portable crane that can lift up to 2,400 lbs. and up to 26 ft. high. Now available with a jib boom attachment that can reach 12 ft. past the wheels while supporting weights up to 800 lbs., the mini crane is suitable for the manufacturing, industrial, transportation, roofing, trucking, heavy equipment, and HVAC industries. Other applications include pipe, steel, and glass installation. The unit can fit through a 3 ft. door. 
---
Original Press Release:
How Do You Lift Heavy Items in Your Industrial Plant?
EZ Rig Crane shares how their mini crane competes with the big boys
Ventura, CA - Mini Crane saves hours and laborers backs
You need to lift 400 or 6-800 pounds, up to the second floor, or maybe get that same weight half way up a building. That is too much weight to run the risk of a workman's compensation claim for a few of your crew. So do you bring in a big old crane? What if you can't get your crane inside the building that is already has the roof on, or the city won't let you block traffic on that block without all kinds of permits, or the budget doesn't allow for a week long rental of a commercial sized crane?
The answer - the mini crane, built by EZ Rig Crane.
The EZ Rig Crane is a small portable crane that a HVAC contractor invented to make his life easier. Even though its dimensions are only 9'-9 1/2" long by 2'-10" wide and can be loaded on a ½ - ¾ ton pickup truck, it can lift up to 2,400 pounds and depending on weight can reach up to 26' high (with their jib boom attachment). It has an electric winch that will allow it to lower weights down 135'. The whole unit fits through a 3' door and fits in some elevators. And if the elevator is too small, the whole unit can be disassembled, taken to the roof, and reassembled with 2 men in under ½ hour.
"The EzRig Crane team field-tested lifting and rigging heavy pipe, piping systems and mechanical equipment in intricate positions at Amgen Pharmaceuticals. The small, dynamic EZ-Rig crane proved superior to the competition where materials were required to be lifted over existing materials, tanks and other obstructions, setting pumps on pump pads, setting tanks on tank pads and extending over the side of the building to lift up materials from the ground. These tasks are impossible and dangerous with crawler cranes, jib cranes, gantry cranes, chainfalls and other industrial hoist inventions on the market."
- Western Air and Refrigeration (who has purchased five small crane units to date).
The EZ Rig Crane has been servicing the industrial manufacturing sector due to its size, maneuverability and ease of use for the past 2 years. Its ability to roll through a standard 3' doorway, its adjustable boom that can reach 20' high and its capability to lift up to 2400 lbs. makes for a smaller footprint on jobsites and does the job of a number of employees.
EZRig Crane, Inc., operating out of Ventura, California, United States, is a manufacturing company that produces the small portable EZRig Crane, serving the Manufacturing, Industrial, Construction, Transportation, Pipe, Steel, Glass Installation, Roofing, Automotive, Trucking, Heavy Equipment, Aircraft, HVAC, and other industries.
EZ Rig Crane is now introducing the Jib Boom attachment. The Jib Boom attachment now allows the user to reach up to 26' high and 12' out past the wheels while supporting weights up to 800 lbs. Lifting AC units, Motors, Blowers, Fans and Ducting, etc over tight areas has never been easier. No longer are 3-4 people needed to lift these parts from existing structures with limited access and awkward positions. No more rigging unsafe lifts to get to a difficult location.
No more extended hours manipulating ropes and pulleys. Injuries are avoided by letting EZ Rig do the lifting.
The Jib Boom accessory is now available for sale. Load charts are at www.ezrigcrane.com
For more information, please call 805-643-4387 or email at info@ezrigcrane.com
For more information:
Ray Neria,
(805-643-4387),
email info@ezrigcrane.com
Website: http://ezrigcrane.com/manufacturing/
Related