TFT LCDs feature white LED backlights.
Press Release Summary: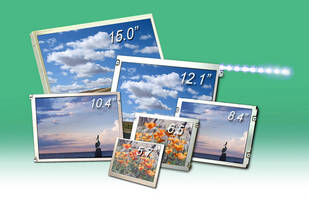 Delivering front of screen brightness levels from 400-700 cd/m² for indoor use and 800-1,500 cd/m² for outdoor use, LED-backlit LCDs offer average lifetimes of 60,000 hr. They have wide viewing angles up to 160º, high contrast ratios up to 1,000:1, and are offered in display sizes including 2, 3, 3.5, 4.3, 5, 5.7, 6.5, 8.4, 10.4, 12.1, and 15 in. diagonal. Including CMOS and LVDS interfaces for quick system development, units offer simple replacement for CCFL-backlit displays.
---
Original Press Release:

Optrex America Expands TFT LCD Line to Include Broad Range of TFT LCDs with LED Backlights



Plymouth, MI, - To meet the increasing demand for LED backlighting in the industrial LCD market, Optrex America, Inc., has developed one of the broadest lines in the industry of TFT LCDs with white LED backlights.

These displays feature longer lifetimes (an average of 60,000 hours), with front of screen brightness levels ranging from 400 cd/m² to 700 cd/m² for indoor use and 800 cd/m² to 1500 cd/m² for outdoor applications. Additional features include wide viewing angles up to 160º, high contrast ratios up to 1000:1, and wide operating and storage temperature ranges. Available display sizes include 2.0", 3.0", 3.5", 4.3", 5.0", 5.7", 6.5", 8.4", 10.4", 12.1" and 15.0" diagonal, with a variety of resolutions to choose from.

Optrex LED-backlit LCDs offer numerous advantages over conventional CCFL-backlit LCDs, including no warm-up time at low temperatures, lower power consumption, higher dimming ratios and, because they do not require high-voltage and high-frequency inverter circuits, significantly reduced electro-magnetic interference (EMI). And since LED backlights contain no mercury, these displays offer a more environmentally friendly option as well.

These displays also offer Optrex's Natural Color Matrix (NCM) technology, a patented color transformation algorithm implemented in the hardware that provides real-time on-the-fly processing to precisely match the colors specified in a data source for exceptionally vivid color reproduction. Additional features include industrial standard CMOS (complementary metal oxide semiconductor) and LVDS (low-voltage differential signaling) interfaces for easy system development.

To ease the customer's transition from CCFL-backlit displays, many of the new LED-backlit displays have the same mounting locations and sizes, saving on re-design and development costs. Each of the new panels are compatible with Optrex's conventional CCFL-backlit TFT LCDs of the same size and resolution. The LED backlight rails are also field replaceable.

Optrex's LED-backlit LCDs are designed for a board range of applications, including test & measurement, factory automation, navigation and avionics systems, POS and ATM machines, and medical equipment.

Sample pricing for the 8.4" LED-backlit TFT LCD is $330. For sample and production quantity pricing on other sizes, contact Optrex America, Inc., 46723 Five Mile Road, Plymouth, MI 48170. 734-416-8500; www.optrex.com

About Optrex

Optrex was formed in 1976 by Asahi Glass and Mitsubishi Electric. Headquartered in Tokyo, Japan, Optrex has followed an aggressive policy of growth and expansion and now serves customers through an extensive in-field network of applications engineers and more than 100 sales and distribution offices throughout the world, including Optrex America Inc. in Plymouth, MI, USA. As a leading designer and manufacturer of flat panel displays, Optrex provides several strengths of interest to OEMs including: a 30-year track record, broad product and technology offering, a clear focus on small to medium displays, commitment to key markets, as well as a truly global manufacturing and support infrastructure.