TFT Displays are suited for industrial/outdoor applications.
Press Release Summary: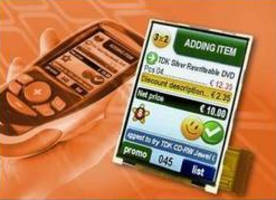 Transmissive Micro Reflective (TMR) TFT displays, designed for portable systems, offer resolution of 240 x 320 pixels, 262K colors, luminance of 300 cd/m
2, and contrast ratio of 300:1. Sunlight-readable displays also integrate backlight. Measuring 2.8 in., they operate in temperatures from -20 to +70°C and can be stored in temperatures from -30 to +80°C. Displays are also available in 4.3, 5.7, and 7.0 in. screen sizes.

---
Original Press Release:

New 2.8 in. TMR TFTs Boast High-End Specs, Excellent Price-Performance



Anders Transmissive Micro Reflective (TMR) TFT displays offer high performance, cost-effective sunlight readability, together with outstanding indoor colour saturation

Anders Electronics has announced the availability of its newest sunlight readable 2.8" TMR TFT display. Specially designed for portable applications like mobile handsets, remote monitoring systems, industrial and metering products, portable measuring devices, and medical devices, the 2.8" TMR TFT offers excellent indoor and outdoor optical specifications, superb guaranteed availability, and unprecedented cost-performance advantages.

Traditional sunlight readable products rely on either a power-consuming bright backlight, unsuitable for portable applications, or cost-prohibitive transflective technology. The newest Anders display leverages highly cost-effective transmissive micro reflective (TMR), a recognised and viable alternative to transflective displays for designers of indoor/outdoor OEM products.

For outdoor use, TMR displays are comparable in performance with transflective displays. For indoor use, the TMR display's high transmission rate actually results in better colour saturation and better performance compared with transflective technology.

Anders' portrait mode TMR TFTs are currently available in 2.8", 4.3", 5.7" and 7.0" screen sizes, with a resolution of 240 x (RGB) x 320 pixels, 262K colours, and an integrated backlight. The displays offer a display surface luminance of 300cd/m2, a contrast ratio of 300:1, and a 12 o'clock viewing angle. Designed for rugged industrial and outdoor use, the TMR TFTs offer operating temperatures from -20°C to +70°C and storage temperatures from -30°C to +80°C.

"Our TMR TFTs offer all the advantages of transflective TFTs - in terms of performance, durability, and sunlight readability - at a significantly lower cost to OEM designers than transflective displays," said Mike Logan, Product Manager. "In today's competitive environment, this gives our clients better value, with no compromise on quality - ultimately translating into increased sales," he concluded.

Lee O'Toole

l.otoole@anders.co.uk

More from Electronic Components & Devices