TFT Displays are available with capacitive touch panels.
Press Release Summary: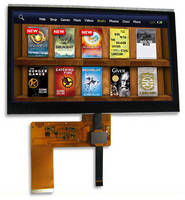 Economical and MVA 7.0 in. TFT displays are available with capacitive touch panel with built-in I²C interface controller. Supporting 5 simultaneous touches, including swipe and zoom gestures, panel can be activated with bare finger, capacitive stylus, or touchscreen-compatible glove. Economical version features 12:00 optimal view, while MVA version is distinguished by 75° viewing angles. Both offer 800 x RGB x 400 resolution, 16.7M colors, 24-bit digital RGB interface, and LED backlight.
---
Original Press Release:

Newhaven Display International Announces New 7.0¡¨ TFT Displays with Capacitive Touch



Newhaven Display International, Inc., known for its affordable, high quality display products and services, now offers capacitive touch to the 7.0" TFT display line.



This new capacitive touch is available on both the economical and MVA 7.0" TFTs. With the distinct features of a TFT, along with the additional benefits of integrating capacitive touch, these displays are ideal candidates for any industry that wants to enhance the user interface experience.



Benefits of Capacitive Touch Panel



Take your display to the next level by featuring the capacitive touch panel. This touch panel not only looks sleek, but it also has interactive abilities, and is exceptionally durable in environments that may be exposed to water, dust, and grease. The capacitive touch panel supports five simultaneous touches, including swipe and zoom gestures, and can be activated with a bare finger, a capacitive stylus, or a touchscreen-compatible glove. Newhaven Display's capacitive touch panel comes with a built-in I2C interface controller, allowing for quick time to market while keeping development costs low.



7.0" Economical TFT display with capacitive touch



Features:

• Cost effective

• Capacitive touch panel with built-in controller

• 800xRGBx400 resolution

• 16.7M colors

• 12:00 optimal view

• Fast response time

• 24-bit digital RGB interface

• LED Backlight

• RoHS compliant



7.0" MVA TFT display with capacitive touch



Features:

• Wide viewing angles (75° all angles)

• Capacitive touch panel with built-in controller

• 800xRGBx400 resolution

• 16.7M colors

• Intense color reproduction and depth

• 24-bit digital RGB interface

• Fast response time

• LED backlight

• RoHS compliant



For more information on the 7.0" TFT displays visit http://bit.ly/7CTPTFT or contact nhtech@newhavendisplay.com.



Known for its wide variety of OLED, LCD and VFD Displays, unparalleled customer service, and value add services; Newhaven continuously offers the industry an advantage by their constant drive to go beyond industry standards to satisfy the needs of every customer.



About Newhaven



Newhaven Display provides the North American marketplace with cost effective, high quality display devices ranging from OLED and LCD to VFD. In addition to the vast standard part offerings, they develop custom designs for all industries. They pride themselves on first-rate customer support and development assistance.



They have two office locations, USA and China. All products are stocked at their Elgin, Illinois USA warehouse. Marketing is done with Mouser and Digi-Key as their major nationwide stocking distributors, along with independent sales representatives. All displays are manufactured at partner factories. These are state-of-the-art facilities with over 18 years of experience with ISO-9001, ISO-14001 and TS-16949 certifications.



Please send all sales inquiries to:

Nhsales@newhavendisplay.com



Please send all technical inquiries to:

Nhtech@newhavendisplay.com

Related