Text to Access Weather Station Data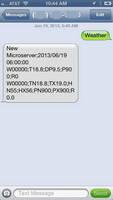 Columbia Weather Systems offers GSM/SMS interface with their weather stations. Weather station users can now text "weather" to their GSM-equipped weather station and receive a text message weather report.



This feature was developed in collaboration with the United Nations. One of their applications is for incoming pilots. The new feature utilizes a Sierra Wireless AirLink GX400 modem. The modem interfaces with the Weather MicroServer which can be used with any CWS weather station.



"We are pleased to be able to respond to advancing technologies and customer requirements with this new feature," says CWS president Nader Khoury.



More from Controls & Controllers