Testing Machines offer torsion testing capabilities.
Press Release Summary: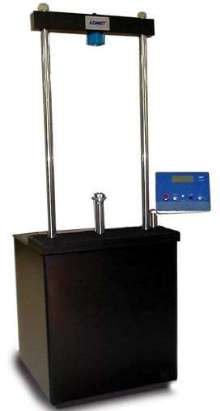 ExPress servo-hydraulic universal testing machines are available with off center loading option that enables moment or torsion testing on machine designed for tension and compression testing. Available in capacities from 11,250-135,000 lb, systems are offered with Precise Digital Controller or MTESTWindows Materials Testing System. Former is suited for testing similar parts, repetitively, and latter provides flexibility of Windows-based testing system.
---
Original Press Release:

ADMET Adds Torsion Testing Capabilities to its ExPress Line of Universal Testing Machines


NORWOOD, Mass. - Nov. 1, 2004 - ADMET Inc., a provider of integrated materials testing systems, today announced an off center loading option for its ExPress line of servo-hydraulic universal testing machines. This new feature enables moment or torsion testing on a machine designed for tension and compression testing. The option extends the capabilities of the ExPress line of universal testing machines and has saved several customers thousands of dollars by not having to purchase a second machine for torsion testing.

"The off center loading option demonstrates our willingness to make software and hardware modifications in order to meet customer needs," said Richard Gedney, ADMET founder and president. "ExPress is an extremely adaptable and popular test frame. With this modification our customers can add an entire new class of tests on the same machine."

ExPress testing systems can be used to test materials and products from virtually any industry, including metals, construction products, automotive parts, sporting goods, medical devices, polymers, adhesives and more. Each system is offered with either the Precise Digital Controller or MTESTWindows Materials Testing System. The Precise is ideal for testing similar parts, repetitively. MTESTWindows offers all of the power and flexibility of a Windows-based testing system.

ExPress universal testing machines are available immediately, directly from ADMET or through affiliated sales/service organizations. ExPress is available in capacities from 50KN (11,250 lb) to 600KN (135,000 lb) with pricing starting at $17,500 plus fixturing. See www.admet.com/assets/ExPressBrochure.pdf for additional information on ExPress test frames.

About ADMET

ADMET Inc. combines high quality products and services with total cost effectiveness to deliver the industry's most efficient materials testing systems. Its products range from materials testing frames to software and specialized control units. The company offers new testing systems as well as retrofits of existing machines from ATS, Baldwin, ELE Soiltest, Forney, INSTRON, MTS, Riehle, SATEC, Shimadzu, Testmark, Tinius Olsen, United and others. Highly skilled engineers provide customers with personalized research and development services and support to make ADMET the most responsive materials testing equipment supplier. ADMET's loyal customer base includes leading manufacturers, testing labs, researchers and universities in aerospace, automotive, biomedical, construction, metals, plastics, textiles and other industries. ADMET can be reached at 800-667-3220, sales@admet.com or by visiting www.admet.com.

All trademarks are the property of their respective owners.

For further information:

Marc Venet
ADMET Inc.
51 Morgan Dr.
Norwood, MA 02062
781-769-0850 X13
mvenet@admet.com