Test-Tite® Test Plug is used in horizontal or vertical testing applications.
Press Release Summary: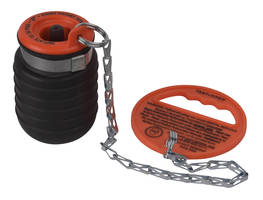 Made of one-piece rubber body and pressure-relieving system integrated into glass-filled nylon core, Test-Tite® Pneumatic Test Plug are available in 1-1/2 in. , 2 in., 3 in. and 4 in. sizes in 6 and 12 pack case configurations. Units are designed is such a way that excess air is relieved into atmosphere before the deformation of plug.
---
Original Press Release:
Test-Tite® Pressure Relief Pneumatic Test Plug Reduces Risk of Over-Inflation
IPS® Corporation, the trusted leader in innovative plumbing solutions, announces the release of the new, fully redesigned patent-pending Test-Tite® Pressure Relief Pneumatic Test Plug. These unique test plugs incorporate exclusive features not found on any other test plug in the plumbing industry.
Unlike standard test plugs, Test-Tite's PR plugs are manufactured with a one-piece rubber body that contains no seams or bonded parts and a patent-pending pressure-relieving system that is integrated into a glass-filled nylon core for protection and extra rigidity in the field.
"IPS is confident the new PR test plug will prove to be a safer and longer lasting plug than any plug on the market today," says Matt Willard Test-Tite product manager.
Functionally, the PR plugs accept air pressure via a pump and are designed to relieve any excess pressure before the plug is permanently deformed or reaches its failure point. Excess air is released into the atmosphere and not into the test area.
Finally, the compact design allows for testing in horizontal or vertical applications, including instances where the plug must be positioned past a right angle, such as a cleanout tee.
Please note, any pneumatic test plug can experience a catastrophic failure, which could result in financial loss and the possibility of injury or even death. Therefore, use of extension hoses with pneumatic test plugs is always recommended along with strict adherence to the provided operating instructions.
Test Tite's new PR test plugs are manufactured in our Tennessee facility, and come with a three-year limited warranty. Get more detailed product information here: http://www.ipscorp.com/plumbing/testtite/pneumaticplugs/pressurerelief.
The new PR plugs are available in sizes 1-1/2", 2", 3" & 4" and in different case configurations: 6 pack of individually packed retail-style boxes and 12 pack bulk cases with no retail-style box. Additionally, we will offer a 3" and 4" plug kit containing a 48" chain and 5' hose for testing sewer wye's.
Please visit our full line Plumbing catalog at http://www.ipscorp.com/pdf/IPS_catalog.pdf, or call Customer Service at 800-888-8312
About IPS® Corporation
IPS® Corporation is the leading manufacturer of solvent cements, primers and sealants for all markets and applications – plumbing and roofing products – as well as structural and assembly adhesives. In the US and around the world, specifiers, contractors, pipe-fitter, plumbers and fabricators choose our professional grade products for their proven superior reliability, innovative features and performance, which save time and offer unmatched guarantee of first-time right and longer service life. More information is available at www.ipscorp.com.
Contact:
Kariann Holland
500 Distribution Pkwy
Collierville, TN 38017
Tel 901-853-5001
C/S 800-888-8312
Fax 901-853-5008
More from Electronic Components & Devices