Test System measures water vapor transmission rate.
Press Release Summary: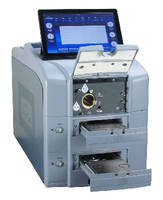 Suitable for packaging and other barrier structures, PERMATRAN-W® Model 3/34 G helps meet performance and shelf life parameters for moisture-sensitive products. Automatic mode enables operator to mount test film, set temperature/relative humidity conditions, and begin test. With TotalCal™ capability, 4 NIST calibration films are stored and calibration curve is generated across system's entire range. Tester includes touchscreen for entering parameters and can run 10 sequential tests with 1 setup.
---
Original Press Release:

MOCON Launches First-Ever, Fully-Automated WVTR Testing System for Packaging and Other Barrier Applications



Minneapolis – MOCON, Inc. (NASDAQ: MOCO), the world's leading manufacturer of permeation instrumentation, is unveiling the first-ever, fully-automated water vapor transmission rate (WVTR) testing system for packaging and other barrier structures, the PERMATRAN-W®  Model 3/34 G.  (WVTR is the steady state rate at which water vapor permeates through a film at specified conditions of temperature and relative humidity.)



The new WVTR testing capability will save significant time and associated costs for food, pharma, beverage, medical device, electronics companies as well as manufacturers of construction products whose objective is to select and qualify optimum barrier materials. The goal is to meet performance, shelf life and cost parameters for moisture-sensitive products.  The PERMATRAN-W Model 3/34 G is also ideal for converters and resin producers who want to test film materials as well as finished packages.



In automatic mode, The PERMATRAN-W Model 3/34 allows the operator to simply mount a test film, set the temperature/relative humidity conditions and begin the test.  This is made possible by MOCON's new TotalCal™ capability, which improves accuracy and eliminates significant set up time. TotalCal also reduces time and improves accuracy in the "advanced testing mode" where operators set all testing parameters



With TotalCal, four NIST (National Institute of Standards and Technology) calibration films are stored and a calibration curve is generated across the system's entire range.  Regardless of the test film's transmission rate, TotalCal assures an error-free and accurate result every time. 



"Most dry products are susceptible to moisture ingress.  Conversely, most wet products are susceptible to the loss of water content. MOCON developed this first-ever, automatic instrument to give food, pharma and related companies, a way to determine a structure's WVTR faster and more-cost effectively than ever before.  This valuable information will lead users to select and qualify materials that will provide the desired barrier and shelf-life attributes for their products," said Doug Lindemann, vice president. 



The PERMATRAN-W Model 3/34 G also includes MOCON's proven TruSeal® technology which eliminates the entry of ambient air into the test cell. This ensures that only the water vapor that enters the cell via transmission is measured.



Additional throughput/time savings are offered via these features:



• Easy-to-use touch screen to enter testing parameters

• Automatic maintenance of temperature, relative humidity, flow and pressure

• Ability to run 10 sequential tests with one set up

• GO button eliminates need to enter the same conditions when repeating a test

• Larger water reservoirs which allow tests to be conducted overnight/weekends without an operator present

• High purge mode reduces test package testing preparation time



"The PERMATRAN-W Model 3/34 G will help processors improve their accuracy, repeatability and speed, while at the same time reducing testing time and labor costs," Lindemann said. "The end goal is to help processors deliver to market a package that meets shelf-life objectives in the most cost-effective way possible."



About MOCON

MOCON is a leading provider of instrumentation and consulting and laboratory services to medical, pharmaceutical, food and other industries worldwide.  See www.mocon.com for more information.



Contact info:

Guy Wray       

MOCON, Inc.      

7500 Mendelssohn Ave. North 

Minneapolis, MN 55428 U.S.A.  

Phone: (763) 493-7228  

Email: gwray@mocon.com

More from Software