Test Stand measures initial force of nitrogen gas springs.
Press Release Summary: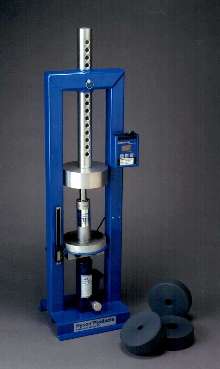 Digital Test Stand verifies pressure during repair and maintenance, and measures force after production runs to document force loss or gain. Lightweight unit can mount directly to table. Maximum rated capacity is 5,000 lb with ±5% full-scale accuracy. Digital readout provides both lb and kg of force. Holding fixtures are provided for smaller gas springs.
---
Original Press Release:
Hyson Products' Digital Test Stand Measures Initial Force of Nitrogen Gas Springs
Brecksville, OH-Hyson Products introduces the Digital Test Stand to measure the initial force of self-contained nitrogen gas springs. Hyson Products is a division of Associated Spring, a business unit of Barnes Group Inc. (NYSE: B) The versatile Digital Test Stand (DTS) also verifies pressure during repair and maintenance, and measures force after production runs to document force loss or gain. Virtually all gas spring models can be tested on this lightweight unit which can mount directly to a table. Other features include a maximum rated capacity of 5000 lbs., accuracy +/-5% of full scale equating to 25 lbs., a digital read-out in both lbs. and kg of force, and holding fixtures for smaller gas springs. Hyson Products designs and manufactures Nitro-Dyne® XP manifold systems and accessories, Tanker® XP high performance gas springs with dynamic lubrication, T2 standard nitrogen gas springs, the Dyne-A-Cam(TM) Series of cams and the DRAC(TM) Series of delayed return manifolds in an ISO 9000:2000 certified facility. Another recent Hyson innovation is the T3 gas spring, the highest force, shortest height gas spring available today. The T3 offers more force in less space, and can reduce cost per ton up to 60%. Barnes Group Inc. (www.barnesgroupinc.com) is a diversified international manufacturer of precision metal parts and distributor of industrial supplies, serving a wide range of markets and customers. Founded in 1857 and headquartered in Bristol, Connecticut, Barnes Group consists of three businesses with 2001 sales of $769 million: Associated Spring, one of the world's largest manufacturers of precision mechanical and nitrogen gas springs; Barnes Aerospace, a manufacturer and repairer of highly engineered aircraft engine and airframe components and assemblies; and Barnes Distribution, a distributor of maintenance, repair and operating (MRO) supplies. Nearly 5,400 dedicated employees at more than 50 locations worldwide contribute to Barnes Group Inc.'s success. For more information and the latest literature, contact Hyson Products, 10367 Brecksville Road, Brecksville, OH 44141, Telephone: 1-800-876-4976 or 440/526-5900, Fax: 440/838-7684 or visit the website at www.hysonproducts.com.
More from Non-Industrial Products